Robyn Rihanna Fenty (born February 20, 1988), better known as simply Rihanna is a Barbadian R&B recording artist and songwriter. Born in Saint Michael, Barbados, Rihanna moved to the United States at the age of 16 to pursue a recording career under the guidance of record producer Evan Rogers. She subsequently signed a contract with Def Jam Recordings after auditioning for then-label head Jay-Z. In 2005, Rihanna released her debut studio album, Music of the Sun, which peaked in the top ten of the Billboard 200 chart and features the Billboard Hot 100 hit single "Pon de Replay." Less than a year later, she released her second studio album, A Girl Like Me (2006), which peaked within the top five of the Billboard albums chart, and produced her first US number one hit single, "SOS", as well as Billboard Hot 100 top ten entries "Unfaithful" and "Break It Off". Rihanna's third studio album, Good Girl Gone Bad (2007), peaking at number two on the Billboard 200, featured five top ten hits including three US number one hit singles—"Umbrella", "Take a Bow" and "Disturbia"—and the worldwide hit "Don't Stop the Music". The album was nominated for nine Grammy Awards, winning Best Rap/Sung Collaboration for "Umbrella," which features Jay-Z. Her fourth studio album, Rated R, was released in November 2009, and peaked at number four on the Billboard 200. Its first three singles, "Russian Roulette", "Hard" and "Rude Boy" peaked within the top ten of the Billboard Hot 100, with "Rude Boy" peaking at number one. She released her fifth studio album, Loud, in November 2010, that features the US and UK number one singles, "Only Girl (In the World)" and "What's My Name?".
Rihanna has sold more than 15 million albums and 45 million singles worldwide. She has achieved nine number-one singles on the Billboard Hot 100 since first appearing on the chart on June 11, 2005, which is the most by any artist during that time span. As of July 23, 2010, Rihanna has sold approximately 5,563,000 album units in the US. She has sold over 10 million records in the UK. Billboard named Rihanna the Digital Songs Artist of the 2000s decade. Rihanna has also amassed over a billion views on the popular video sharing site, YouTube, becoming only the fourth artist to do so. She has received several accolades, including the 2007 World Music Awards for World's Best-Selling Pop Female Artist and Female Entertainer of the Year, as well as the 2008 American Music Awards for Favorite Soul/R&B Female Artist and Favorite Pop/Rock Female Artist. She serves as one of Barbados's honorary cultural ambassadors. In January 2010, Rihanna received two Grammy Awards for Jay-Z's 2009 single "Run This Town". In February 2011, Rihanna received a Grammy Award for Best Dance Recording, as well as receiving a Brit Award for Best International Female Solo Artist. Rihanna was born in Saint Michael, Barbados on February 20, 1988, to Monica, an accountant, and Ronald Fenty, a warehouse supervisor. Her mother, a native of Guyana, is Afro-Guyanese, and her father is of Barbadian and Irish descent. She is the eldest of three siblings; two younger brothers, Rorrey and Rajad Fenty. She began singing at around the age of seven. Her childhood was deeply affected by her father's addiction to crack cocaine and her parents' rocky marriage, which ended when she was fourteen years old. Rihanna attended Charles F. Broome Memorial School, a primary school in Barbados, and then the Combermere School, where she formed a musical trio with two of her classmates at the age of fifteen. In 2004 she won the Miss Combermere Beauty Pageant. She was an army cadet in a sub-military programme that trained with the military of Barbados and Shontelle was her drill sergeant. In 2003, friends introduced Rihanna and her two bandmates to record producer Evan Rogers, who was vacationing in Barbados with his wife. The group auditioned for Rogers, who said that "the minute Rihanna walked into the room, it was like the other two girls didn't exist." While auditioning for Rogers, Rihanna sang Destiny's Child's cover of "Emotion". Over the next year, Rihanna and her mom shuttled back and forth to Rogers' home in Stamford, Connecticut. Then, shortly after turning 16, she relocated in the United States and moved in with Rogers and his wife. Carl Sturken helped her record a four-song demo, which included the ballad "Last Time", a cover of Whitney Houston's hit "For the Love of You", and what would become her first hit, "Pon de Replay", to send to various recording companies. It took a year to record the demos, because Rihanna was going to school and would only record during summer and Christmas school breaks. Her demo made its way to Def Jam, which invited her to audition for the label's then-president, Jay-Z, who quickly signed her.
Rihanna "What's My Name" Song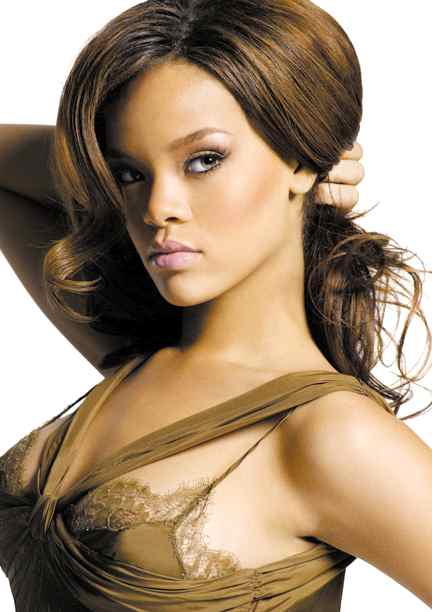 On February 8, 2009, Rihanna's scheduled performance at the 2009 Grammy Awards was cancelled. Reports later surfaced regarding an alleged altercation with then-boyfriend, singer Chris Brown, who was arrested on suspicion of making criminal threats. On March 5, 2009, Brown was charged with assault and making criminal threats. Due to a leaked photograph from the Los Angeles Police Department obtained by TMZ.com—which revealed Rihanna had sustained visible injuries—an organization known as STOParazzi has proposed a law called "Rihanna's Law," which, if enacted, would "deter employees of law enforcement agencies from releasing photos or information that exploits crime victims." Gil Kaufman of VH1 reported "the nonstop coverage of the Rihanna/Brown case has brought up a number of issues regarding the privacy of alleged victims of domestic violence, including the decision by almost all major news outlets to divulge the identity of the victim—which is not typically done in domestic-violence cases" and the controversial distribution of the leaked photograph. Rihanna was subpoenaed to testify during a preliminary hearing in L.A. on June 22, 2009. "The DA told me Rihanna will be subpoenaed. I will accept on her behalf," Rihanna's attorney, Donald Etra told Us Weekly. On June 22, 2009, Brown pled guilty to the felony assault. In exchange for his plea Brown received five years probation and was ordered to stay fifty yards away from Rihanna, unless at public events, which then will be reduced to ten yards.
During the summer, Rihanna collaborated with rapper Eminem on "Love the Way You Lie", which reached number one on the Billboard Hot 100, as well as other countries including Australia, Canada, Ireland, New Zealand, Norway and Sweden. The song became Rihanna's seventh number one hit single on the Hot 100 of her career, making her the female artist with the fifth-most number ones in the chart's history. In August, 2010, a wax figure of Rihanna was unveiled in Madame Tussauds in Washington D.C. Rihanna was asked by Kanye West in or around August 2010 to contribute to "All of the Lights", the fifth track from West's fifth studio album, My Beautiful Dark Twisted Fantasy. In an interview with MTV News, Rihanna stated that she "loved" the song, which also features several other artists, including but not limited to Alicia Keys, John Legend, Fergie and Elton John. On October 19, 2010, Rihanna released a self-titled book, and is currently working on Peter Berg's film, Battleship, scheduled for release in 2012. On October 20, 2010, Rihanna announced that she was parting ways with manager Marc Jordan and will henceforth be managed by Jay-Z's Roc Nation Management. She is also starting her own company, Rihanna Entertainment, in which she will "merge all of her businesses including music, film, fragrance, fashion and book ventures".
Rihanna released her fifth studio album, Loud, on November 16, 2010. The album debuted at number three on the Billboard 200, selling 207,000 copies in its first week, becoming the fifth top-ten album of Rihanna's career in the US, with her best week of sales. Its lead single, "Only Girl (In the World)", was digitally released in the United States in September 2010. After many weeks, the song reached number one on the Billboard Hot 100. "Only Girl" also reached number one in many other countries including Australia, Canada, and the UK. Later the song won a Grammy Award for Best Dance Recording at the 53rd Grammy Awards. The album's second single, "What's My Name?", featuring rapper Drake, also reached number one on the Billboard Hot 100. Although it was the second single from Loud, it reached the top spot before the first single, "Only Girl (In the World)" making it the first time in Hot 100 history that an album's debut single reached number one after the second single. On December 5, 2010, Rihanna had three songs in the top ten on the UK singles chart with "Only Girl (In The World)" at number seven, "What's My Name?" at number eight, and the David Guetta single "Who's That Chick?" at number nine. On January 9, 2011, the same three songs were in the top ten on the UK singles chart with "What's My Name?" at number one, "Only Girl (In The World)" at number nine, and the David Guetta single "Who's That Chick?" at number ten. On January 9, 2011, "What's My Name?" hit the top spot on the official UK singles chart, giving Rihanna the record of being the first female solo artist to have 5 number one singles in the UK in consecutive years. In 2007, "Umbrella" gave Rihanna her first UK number one single; in 2008, "Take A Bow" gave her her second; in 2009, "Run This Town" was the third; in 2010, "Only Girl (In the World)" gave her her fourth UK number one single.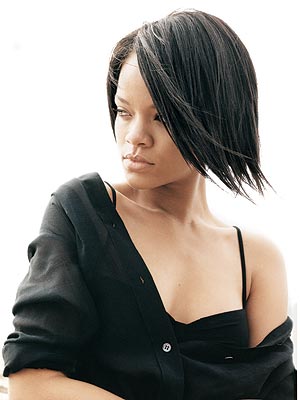 Volume 65 of the Contemporary Black Biography book series notes that "Rihanna is the rare rhythm and blues (R&B) diva to emerge from the Caribbean world." Becoming an international sensation, Rihanna is known for blending R&B with Caribbean music, such as reggae and dancehall. Peter Coulter of the Antrim Times commented that "[Rihanna] has an amazing voice which showed during her acoustic set, she just needs to work on her audience engagement during live shows." At the time of her debut, reviewers referred to her as a "bubblegum queen" and her music to "teen pop." Larry Meyler of The Sun stated that "Rihanna going bad is very good" and that she had "[shaken] off any 'teen pop' image as she rocked the stage." While performing at the Ottawa Bluesfest, Denis Armstrong of Canadian Online Explorer commented on her performance saying "her show was a Disney-esque choreographed fantasy of non-stop hip-swivelling, sassy attitude and personal endearments and a string of funky, sugar-free hits." After revealing a new image while headlining her first tour, she was likely to be criticized for her tight leather outfit during each show. A review in The Times compared Rihanna's stage wardrobe styling to that of Janet Jackson. He described her outfit as "a vision of Ann Summers couture in thigh-high boots and a few scraps of black PVC." Stuart Derdeyn of The Province commented that "even with the whole haute couture B&D clearly firing on all points, she's still got a ways to go to become the new Janet Jackson." Rihanna's musical style has changed during the release of her last three albums. She was originally marketed as a reggae singer since she burst into the music scene in 2005, with a styles of pop, R&B and dancehall. Her music include various styles of musical genres, including contemporary R&B, dance-pop and the Caribbean music styles of reggae and dancehall. With the release of Music of the Sun and its lead single "Pon de Replay", Jason Birchmeier of Allmusic described Rihanna's musical style as "synthesize Caribbean rhythms and beats with standard-issue urban dance-pop: Caribbean-inflected urban, if you will." Rihanna is described as utilizing "dancehall-lite beats and a reggae vocal cadence." NME describes the singer as a "heady mix of dancehall, reggae and contemporary R&B." Barry Walters of Rolling Stone considers Rihanna's A Girl Like Me to be "lightweight dancehall and R&B jams." After the release of Good Girl Gone Bad, Allmusic's Andy Kellman credits Rihanna to be "as pop as pop gets." Kelefa Sanneh of The New York Times described her hit "Umbrella" as a lightweight pop confection with a heavy hip-hop backbeat, a breezy love song enriched by those unexpectedly goth-sounding keyboards and by the incongruous hint of anguish in Rihanna's girlish voice.