Miley Ray Cyrus (born November 23, 1992) is an American actress and pop singer. She achieved wide fame for her role as Miley Stewart/Hannah Montana on the Disney Channel sitcom Hannah Montana. Cyrus recorded music for the soundtracks, Hannah Montana (2006) and Hannah Montana 2/Meet Miley Cyrus (2007), released by Walt Disney Records. With the success of the Hannah Montana franchise she established herself as a teen idol. In 2007, Cyrus signed to Hollywood Records to pursue a solo career. She embarked upon the Best of Both Worlds Tour the same year, in which she performed as both herself and in character as Hannah Montana. The tour was eventually turned into a high-grossing concert film entitled Hannah Montana & Miley Cyrus: Best of Both Worlds Concert (2008). In July 2008, Cyrus released her first solo album, Breakout (2008), which was commercially successful. She began her foray into film by providing the voice of "Penny" in the animated film Bolt (2008). Cyrus earned a nomination for the Golden Globe Award for Best Original Song for her performance of Bolt's theme song, "I Thought I Lost You". She also reprised her role as Miley Stewart/Hannah Montana in Hannah Montana: The Movie (2009).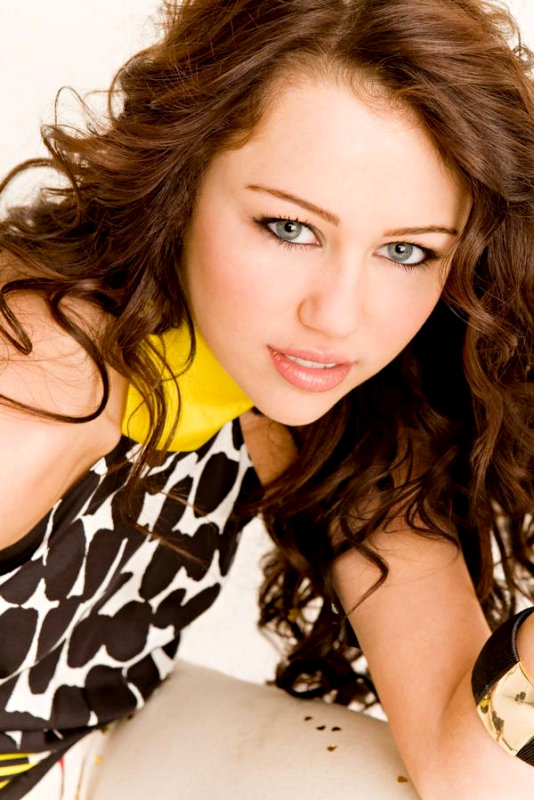 The Hannah Montana: The Movie' soundtrack introduced her to new audiences within country and adult contemporary markets. She began to cultivate an adult image in 2009 with the release of The Time of Our Lives (2009), an extended play which presented a more mainstream pop sound, and by filming The Last Song (2010), a coming-of-age drama film. The former included Cyrus's best-selling single, "Party in the U.S.A." (2009). A studio album titled Can't Be Tamed was released in 2010 and presents a new dance-pop sound. The music video and lyrics of the album's lead single, "Can't Be Tamed", portrays a more sexualized image for the entertainer. Cyrus ranked number thirteen on Forbes' 2010 Celebrity 100. Cyrus was born on November 23, 1992 in Nashville, Tennessee to Leticia Jean "Tish" (née Finley) and country singer Billy Ray Cyrus. Her parents named her Destiny Hope because they believed that she would accomplish great things with her life. They gave her the nickname "Smiley", which was later shortened to "Miley", because she smiled so often as a baby. Cyrus suffers from a mild heart condition causing tachycardia which, though not dangerous, is often bothersome. Against the wishes of her father's record company, Cyrus's parents secretly married a year after Cyrus's birth on December 28, 1993. Tish had two children from a previous relationship: Trace and Brandi. Billy Ray adopted Trace and Brandi when they were young. She has a half-brother, Christopher Cody, Billy Ray's son from a brief relationship, born the same year as Miley; he grew up with his mother in South Carolina. Tish and Billy Ray had two more children, Braison and Noah. Cyrus's godmother is entertainer Dolly Parton. Cyrus was very close to her paternal grandfather, Democratic politician Ronald Ray Cyrus.
Cyrus has paid her grandfather several tributes since his death in 2006, including eventually changing her middle name to "Ray". According to Cyrus's father, "A lot of people say Miley changed her name to Miley Ray because of Billy Ray, but that's not true. She did that in honor of my dad, because the two of them just loved each other to pieces." Cyrus grew up on a 500-acre (2.0 km2) farm in Franklin, Tennessee, approximately an hour away from Nashville, and attended Heritage Elementary School. She was raised Christian and was baptized in a Southern Baptist church prior to moving to Hollywood in 2005. She attended church regularly while growing up and wore a purity ring. Cyrus did not seriously consider acting until she was eight. Several of Cyrus's siblings also eventually entered the entertainment business: Trace became a vocalist and guitarist for the electronic pop band Metro Station, Noah became an actress, and Brandi became a guitarist. In 2001, when Cyrus was eight, she and her family moved to Toronto, Canada while her father filmed the television series Doc. Cyrus said watching her father film the show inspired her to pursue acting. After Billy Ray took her to see a 2001 Mirvish production of Mamma Mia! at the Royal Alexandra Theatre, Cyrus grabbed his arm and told him, "This is what I want to do, daddy. I want to be an actress." She began taking singing and acting classes at the Armstrong Acting Studio in Toronto. In her first role, Cyrus played a girl named Kylie on Doc. In 2003, Cyrus was credited under her birth name for her role as "Young Ruthie" in Tim Burton's Big Fish. At age 11, Cyrus learned about the casting for what became Hannah Montana, a Disney Channel children's television series about a school girl with a secret double life as a teen pop star. Cyrus sent in a tape auditioning for the show's best friend role, but received a call asking her to audition for the lead, "Chloe Stewart". After sending in a new tape and flying to Hollywood for further auditions, Cyrus was told that she was too young and too small for the part. However, her persistence and ability to sing in addition to act led the show's producers to invite her back for further auditions. Cyrus eventually received the lead, renamed "Miley Stewart" after herself, at the age of twelve.
As Cyrus's career took off, Tish Cyrus made several critical decisions regarding her daughter's representation. She signed Cyrus with Mitchell Gossett, director of the youth division at Cunningham Escott Slevin Doherty. Gossett, who specializes in creating child stars, had arranged for Cyrus's auditions for Hannah Montana and is credited with "discovering" her. For Cyrus's music career, Tish followed the advice of Dolly Parton, Cyrus's godmother and a singer herself, and signed Cyrus with Jason Morey of Morey Management Group. "Dolly said the Moreys are people you can trust around your daughter," Tish Cyrus recalls, "and she said they have good morals, which is not always the case in this business." According to trade magazine The Hollywood Reporter, Parton's advice was "the best advice [Tish] could [have gotten] on who should rep her daughter." Tish also recruited Billy Ray's business manager to manage her daughter's finances. Tish herself continues to co-manage or produce many of Cyrus's career decisions. For her education, Cyrus enrolled at Options for Youth Charter Schools and studied with a private tutor on the set of her television show. Hannah Montana became an instant hit and propelled Cyrus to teen idol status, according to The Daily Telegraph. The series premiered on March 26, 2006 to the largest audience ever for a Disney Channel show and soon became one of the highest-rated series on basic cable, elevating Cyrus's wealth and fame along with it. Time magazine reports that Cyrus's "phenom[enal]" success is due partially to her talent and partially to "Disney learning to use its vast, multimedia holdings" and market Cyrus and Hannah Montana appropriately. Cyrus eventually became the first artist to have deals in television, film, consumer products, and music within The Walt Disney Company. Cyrus's first single was "The Best of Both Worlds", the theme song to Hannah Montana, which was released on March 28, 2006. "The Best of Both Worlds" is credited to "Hannah Montana", the pop star Cyrus portrays on the series by the same name. As with other songs credited to Montana, Cyrus typically dressed as the character when performing the song live. Cyrus's first release under her own name was a cover of James Baskett's "Zip-a-Dee-Doo-Dah", released on April 4, 2006 on the fourth edition of DisneyMania. Dressed as Hannah Montana, Cyrus opened for The Cheetah Girls on twenty dates of their The Party's Just Begun Tour, beginning on September 15, 2006. On October 24 of same year, Walt Disney Records released the first Hannah Montana soundtrack. Of the nine tracks on the soundtrack performed by Cyrus, eight were credited to "Hannah Montana" and one, a duet with her father titled "I Learned from You", was credited to Cyrus as herself. The album peaked at number one on the U.S. Billboard 200 chart.
The second season of Hannah Montana premiered on April 23, 2007, and ran until October 12, 2008. Cyrus signed a four-album deal with Disney-owned Hollywood Records and, on June 26, 2007, released a double-disc album. The first disc was the soundtrack to the second season of Hannah Montana, while the second, titled Meet Miley Cyrus, was Cyrus's debut album credited to her own name. The double-disc album peaked at number one on the Billboard 200 and was later certified three times platinum by the Recording Industry Association of America (RIAA). Meet Miley Cyrus generated "See You Again", Cyrus's first single to be released under her own name and her first top ten hit on the Billboard Hot 100. In Fall 2007, Cyrus launched her first tour, the Best of Both Worlds Tour, to promote Meet Miley Cyrus and the Hannah Montana soundtracks. With the Jonas Brothers, Aly & AJ, and Everlife as her opening acts, Cyrus toured from October 17, 2007 to January 31, 2008 with stops in the U.S. and Canada. Tickets sold out in minutes and were scalped for up to $2,500 and an average of $214, well above their $26–$65 face value. A Ticketmaster official commented, "Hell hath no fury like the parent of a child throwing a tantrum. People who have been in this business for a long time are watching what's happening, and they say there hasn't been a demand of this level or intensity since The Beatles or Elvis."After the end of the Best of Both Worlds Tour in January 2008, Walt Disney Pictures released Hannah Montana & Miley Cyrus: Best of Both Worlds Concert, a 3D concert film of the tour, on February 1, 2008 for what was expected to be a one-week run. The film earned $29 million at the box-office and an average of $42,000 per theater, twice the expected total, convincing Disney executives to extend the release for an indefinite run. "We don't want to turn away kids from the theaters who couldn't get into the concerts," said Chuck Viane, Disney's chief of distribution. The film's soundtrack was released by Walt Disney Records/Hollywood Records on March 11, 2008 and peaked at number three on the Billboard 200.
As of December 2010, Cyrus is set to star in two more films, LOL: Laughing Out Loud and So Undercover. In LOL, a remake of a 2008 French teen comedy, Cyrus plays "a daughter who is involved with all the wrong kids, doing drugs, failing school, but [...whose] mother has her on this perfect pedestal" and says "[She] just fell in love with the story." Miley's character loses her virginity, smokes cannabis, gets wasted and kisses two girlfriends on the lips. She will also star in So Undercover, an action comedy film. Cyrus will play the part of "a tough, street-smart private eye hired by the FBI to go undercover in a college sorority." She will learn street fighting for the role. Cyrus hosted Saturday Night Live on March 5, 2011, where she performed in several sketches. She also sang a brief song about her several controversies, such as the bong incident, the photo of her friend and she eating a Twizzler, and the "pole dance" on a hotel pole at the Teen Choice Awards, stating "I'm sorry that I'm not perfect." At the end of 2009, Billboard magazine ranked Cyrus the fourth best-selling female artist and the fifth best-selling singer overall. Forbes ranked her #29 on the Celebrity 100 and reported she had earned a total of $25 million. On October 8, 2009, Cyrus deleted her account on the social networking site Twitter, citing a desire for more privacy. She also told Parade magazine, "I deleted my Twitter account because I said on there that I believed in gay marriage because everyone should have the right to love each other, and I got such hate mail about my being a bad person." Cyrus was very popular on the site: her account was watched by approximately 2 million Twitter users in addition to the general public at the time of deletion. On October 26, 2010, less than a month before Cyrus's eighteenth birthday, her father Billy Ray Cyrus filed for divorce from her mother in Tennessee, citing irreconcilable differences. In a statement made to People the next day announcing the split, the couple said, "As you can imagine, this is a very difficult time for our family... We are trying to work through some personal matters. We appreciate your thoughts and prayers."
Miley Cyrus hot pose
Miley Cyrus long curly hairstyle
Miley Cyrus stage performance
Miley Cyrus funny pose
Miley Cyrus long wavy hairstyle