"Man Down" is a song performed by Barbadian recording artist Rihanna, taken from her fifth studio album Loud (2010). The song was sent to US rhythmic and urban radio on May 3, 2011 and was released as the album's fifth overall single in the United States. The song was written by Shama "Sham" Joseph, Timothy & Theron Thomas, and Shontelle Layne. Production was completed by Shama "Sham" Joseph. Reception of "Man Down" has been positive, with critics calling it a comeback of Rihanna's Caribbean-tinged rhythm. The song is also included on the set list of the Loud Tour.At the beginning of March 2011, Rihanna asked fans to help her select her next single. Via Twitter, fans were asked to choose from "Cheers (Drink to That)," "Man Down," "California King Bed" or "Fading". The most popular choice would have its video filmed at the end of March 2011. On March 12, 2011 it was confirmed that fans had selected "California King Bed" as the next single from the album. In the US, "Man Down" was released to the US rhythmic and urban radio on May 3, 2011. However internationally, "California King Bed" served as the fourth single, as it was announced.
"Man Down" received generally positive reviews from critics, with Jon Pareles of The New York Times saying that Rihanna plays up her West Indian accent in the electro-reggae of "Man Down" about shooting a man in central station. August Brown of Los Angeles Times commented, "Man Down reasserts her Caribbean lilt with a swaggering murder ballad that one can't help but hear as a warning shot across the radio dial to Chris Brown's Deuces. Entertainment Weekly writer Leah Greenblatt said that the rum-pa-pum ragga "Man Down" burrows neck-deep in island rhythms. Emily Mackay of NME commented that the album's experiments feel more organic, its tone better paced because of the Caribbean-tinged anthem for doomed youth of "Man Down". James Skinner of BBC Online viewed "Man Down" as a Caribbean rhythm, where Rihanna relays a break-up as murder metaphor in thick Barbadian patois. Sal Cinquemani of Slant Magazine named the song the album's biggest highlight, a full-fledged reggae tune about a woman who shoots a man. He praised the song saying that Rihanna is surprisingly agile in this genre and is one of her finest, most confident vocal performances to date.
Rihanna "Man Down" Song

The music video for "Man Down" was shot in Jamaica in April 2011, and was directed by Anthony Mandler, who worked with Rihanna for most of her music videos. On May 1, 2011, Rihanna posted three images from the shoot via Twitter. One of the images showed her on a beach wearing a white Dolce & Gabbana dress, while another image showed her riding a bike in Portland Parish. In an interview with MTV News on May 16, 2011, Mandler discussed the music video more in depth: We shot the video last month in Jamaica and it's my favorite song she's ever recorded, so I was really excited to get involved. And it's just one of those songs that demands a strong narrative and visual, and let's just say she let me go all the way. So I think you can expect something that's dramatic and shocking and intense and emotional and uplifting and enlightening.
The video begins on a dramatic note when Rihanna shoots a man making his way through a busy train station. After committing her crime, the camera focuses on the shot man and later Rihanna flees the scene. So as to give viewers some history, the video travels back in time to the previous day, when the singer is seen riding her bike and meeting with people in Kingston, Jamaica. There are also scenes of Rihanna alone inside a bedroom at dusk. Then, at a nightclub, Rihanna begins to dance and flirt with another club-goer, the man who she is seen shooting at the video's beginning. After she leaves the club, the singer's dance-floor partner follows her outside and begins to get violent. The video then cuts straight to the scene of a disheveled Rihanna crying in the street, after what appears to have been a sexual assault. The video concludes with the singer running to her home where she grabs a gun hidden in a dresser drawer, after which the beginning scene is replayed where she shoots him.
The Parents Television Council (PTC), a non-profit organization which advocates responsible entertainment, criticized Rihanna for "cold, calculated execution of murder" in the video. The council disagreed with Rihanna's suggestion that killing a rapist is a proper form of justice and her rationale that it "sends a very strong underlying message 4 girls like me." They also stated "If Chris Brown shot a woman in his new video and BET premiered it, the world would stop. Rihanna should not get a pass." PTC also criticized BET for airing the video. In response to the PTC, Rihanna stated: I'm a 23 year old singer who doesn't have kids. What's up with everybody wanting me to be a parent [to their children]? I'm just a girl, I can only be our voice. We all know it's difficult and embarrassing to communicate touchy subject matters to anyone, especially our parents. The music industry isn't "Parent's 'R Us." We have the freedom to make art; let us! It's your job to make sure your children don't turn out like us. You can't hide your kids from society, or they'll never learn how to adapt. This is the real world!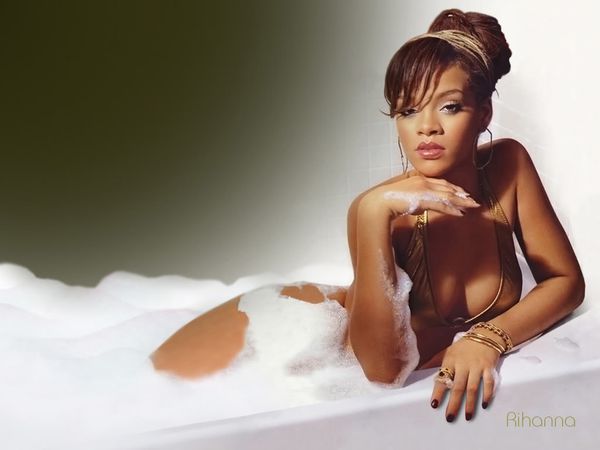 Rihanna sexy body pose
Rihanna performance at her video clip "Man Down"