Bar Refaeli (born 4 June 1985) is an Israeli model and occasional actress, most known for her modelling work and for her relationship with American actor Leonardo DiCaprio. She was the cover model of the 2009 Sports Illustrated Swimsuit Issue.Bar Refaeli was born into an Israeli Jewish family in Hod HaSharon, Israel. Her parents, Rafael and Tzipi, own a horse ranch. Her mother was a successful Israeli model in the 1970s under her maiden name, Tzipi Levine. Refaeli has three brothers. She began a modeling career at the age of eight months, appearing in commercials. Refaeli had to wear braces in her early years, interrupting her modeling until age 15, when she returned to modeling with the representation of Irene Marie Models.Refaeli began her modeling career before the age of 8 months for a baby commercial. By age 15, she was featured in campaigns for the fashion brands Castro and Pilpel, also starring in a commercial for Milky. Refaeli won the title "Model of The Year" in an Israeli beauty contest in 2000. She was also chosen to be the home model of Renuar fashion network and appeared in their summer 2002 and winter 2003 catalogs.
Refaeli has appeared in ELLE (France), Maxim, and GQ (Italy). She debuted in the 2007 Sports Illustrated Swimsuit Issue, becoming the first Israeli model to appear in the magazine, posing with rock band Aerosmith. In 2009, Refaeli was the covermodel for the Sports Illustrated Swimsuit Issue. A photo from the shoot, featuring a bikini-clad Refaeli, was painted on the side of a Boeing 737 in a promotional deal with Southwest Airlines, leading to criticism of Southwest from passengers for using an image they regarded as inappropriately sexual and "offensive to families". In October of the same year, Refaeli was again embroiled in controversy, when Haredi groups criticised a Tel Aviv billboard campaign in which she appeared semi-nude, alleging that it could "poison" the public. The billboards were subsequently removed. She has been the spokesperson for fashion brand Luisa Cerano. She has modeled for Subaru, Accessorize, Brazilian clothing line Besni, Italian jewelry line Marco Bicego, and Rampage. In 2008, Refaeli became the face of clothing line Hurley, and the Diddy cologne, "I Am King." In 2009, she became the spokesperson of Garnier International and added the 2009/2010 advertising campaign for Morellato watches and jewelry to her resume. On 5 March 2009, Refaeli received the "World Style Award," presented by the Women's World Awards, for her "natural elegance, sense of style and compassion." In October of the same year, Refaeli co-hosted Fashionable Istanbul's press conference announcing their October 2009 fashion event, also appearing in its advertising. Bar Refaeli is also popular with the readers of FHM Magazine, often featuring in their 100 Sexiest Women in the World poll – she was voted #57 in 2010 and #42 in 2008. Bar was unveiled as the face and body of French firm Passionata for the autumn-winter 2010 collection. She was also the face and body for the Liverpool Fashion Fest, autumn-winter 2010 collection.
Refaeli co-starred the Israeli TV series Pick Up in 2005. In October 2008, she co-hosted the Bravo special program Tommy Hilfiger Presents Ironic Iconic America, based on the book Ironic Iconic America written by George Lois. She returned as a program host in 2009, this time for MTV's brief revival of House of Style. On January 18, 2011, Bar attended the premiere of the English-language movie Session in Israel in which she stars. Directed by Israeli Haim Bouzaglo, the film is a psychological thriller that tells the story of a manipulative psychologist who becomes obsessed with a new young patient. She served as a guest judge on cycle 4 of Germany's Next Topmodel hosted by Heidi Klum. Refaeli volunteers for Project Sunshine, a non-profit organization providing free services and programs for children facing life-threatening illnesses. She has also volunteered for organization Ahava, which has been caring for pets abandoned in Northern Israel during the 2006 Israel-Lebanon conflict. Bar Refaeli and film director Shahar Segal have agreed to do a free campaign under the slogan "One Bag Less" to reduce the use of plastic bags. In August 2010, she decided to write a special report with the collaboration of Better Place on why she significantly believes that people should drive electric cars. Previously linked to Baywatch actor David Charvet and Uri El-Natan, Refaeli began a relationship with American actor Leonardo DiCaprio in November 2005 after meeting him at a Las Vegas party thrown for members of U2. In the course of their trip to Israel in March 2007, the couple met with Israeli president Shimon Peres and visited Refaeli's hometown of Hod HaSharon. The relationship ended in June 2009. Numerous reports, however, indicate that, as of early 2010, the romance may have been rekindled.
In 2007, controversy arose when it became widely known that Refaeli had married a family acquaintance and divorced him soon after in order to avoid military service in the Israel Defense Forces, which is mandatory for both men and women over the age of 18, with certain exceptions. As a result of the adverse publicity, the Israeli Forum for the Promotion of Equal Share in the Burden threatened to boycott the fashion chain Fox if they hired Refaeli, but the two sides reached a compromise in which the model agreed to visit injured IDF soldiers on visits to Israel and encourage enlistment in the army. In 2009, fellow Israeli model Esti Ginzburg, while speaking in support of enlisting, caused headlines by criticizing Bar Refaeli for her avoidance of military service. By January 2010, Refaeli was again in the headlines when an Israeli army general discovered she had applied to be registered as a non-resident Israeli in order to pay lower Israeli taxes, again causing threats of boycotts of companies Refaeli has modeled for. Her relationship with DiCaprio caused one nationalist Israeli organization to send her a letter, later leaked to the press, in which she was asked, for the sake of "future generations of Jews", not to marry a "non-Jew", a request similar to the one made, a few years previously, to Israeli Miss World winner Linor Abargil. Refaeli confided to L'Isha magazine that she prefers to keep a lower profile – though she is out with DiCaprio much of the time. "I am there for him and I am at all the events," she says. "I just don't walk in hand-in-hand with him. I don't see any reason. I don't need to strike poses with him in front of the cameras." "No one needs to know how we kiss."
Bar Refaeli cute pose
Bar Refaeli sweet smile pose
Bar Refaeli sexy pose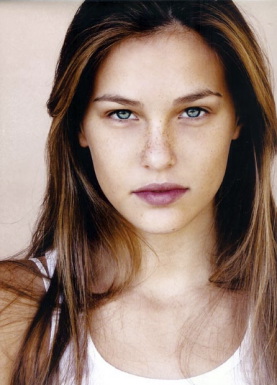 Bar Refaeli beautiful pose