Never Find Someone Like You by Keith Martin

Keith Martin (born Keith Eric Martin, September 22, 1966, Washington, D.C.) is an American R&B singer-songwriter and multi-instrumentalist, currently living and working in Stockton, California. Martin is best known for writing and singing romantic love songs. He is also an accomplished musician, playing keyboards, bass guitar, drums, and percussion.
Michael McCary brought Martin to Sony, where he released his first album, It's Long Overdue in 1995, which peaked at #82 on the US Billboard R&B Albums chart. His first single "Never Find Someone Like You" (which was also independently recorded by Backstreet Boys before) peaked at #53 on the Billboard Hot 100 and at #43 on R&B Singles chart, and was included in the platinum-selling Bad Boys soundtrack.
For the next decade Martin stayed busy in the music industry, producing and writing, and releasing several solo albums, gaining him a large fan base throughout the world. His ballad, "Because Of You", is still a major favorite in the US and Asia.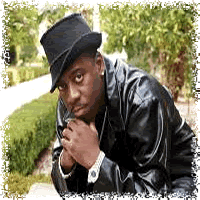 In 2004, he came to the attention of EMI, who hired him as in-house producer in Manila, Philippines, producing and writing for artists in the Philippines and Indonesia. He collaborated with Filipino singer Kyla on her Not Your Ordinary Girl and Beautiful Days albums, with Gloc 9 on his Ako Si… album, with Agnes Monica on her Whaddup A.. '?! album, with Gary V., 604 and others. As of late 2009, he worked with POSH, an all-girl group signed to Viva Records to produce one of their singles, "Missing You" off their album My Heart.
Martin was the second son of three children in Washington, D.C. Growing up, he listened to Glenn Louise, Jimmy Jam and Terry Lewis, and Stevie Wonder. He was also influenced by jazz and gospel music. He started playing piano, drums and singing when he was 10, and started writing music when he was aged nineteen.
Martin was a force among local artists in the late 1980s, working and performing with Johnny Gill and Stacy Lattisaw. He was a part of the group Masqerade, which included the twins Art and Scott Powell, Sharif Walters and D'Extra Wiley, who later became a member of the 1990s new jack R&B group II D Extreme.
Con Funk Shun founder and drummer Louis A. McCall Sr. saw Martin, and signed him to his Gaithersburg, MD artist management company owned by him and his wife Linda Lou McCall, a music business consultant and songwriter. Linda Lou McCall was hired by MC Hammer in 1990 to help set up his corporate operations and administration in Oakland, California. When she became Vice President of Hammer's artist management company, she and her husband arranged for Martin to come to California, and got him on as part of MC Hammer's Please Hammer, Don't Hurt 'Em and Too Legit to Quit world tours.
When the McCalls relocated to Los Angeles in 1992, Martin followed, enabling him to work with Boyz II Men, Shovani and Buster, Grammy Award winning songwriter and producers Marty Sharon and Danny Sembello, Oji Pierce, Ian Prince, and the The Time's Jesse Johnson.