Denise Lee Richards (born February 17, 1971) is an American actress and former fashion model. She achieved success during the late 1990s in several films, including Starship Troopers, Wild Things, and The World Is Not Enough. She appeared on the reality TV show, Denise Richards: It's Complicated, which was carried by American cable channel E!.She spent the majority of the 1990s appearing in lower-budget films and TV shows such as Saved by the Bell, television movies, and guest starring in episodes of several television shows such as Married with Children (1991), a 5 second walk through. Her first starring role in a wide theatrical release was Starship Troopers in 1997, which was followed by her role in the moderately successful cult film Wild Things in 1998. In 1998, she appeared in the music video for the Blues Traveler song Canadian Rose.Richards was cast as the nuclear-physicist Christmas Jones in the 1999 James Bond film The World Is Not Enough (1999). Though she considered her role "brainy", "athletic", and having depth of character, she was criticized as not credible in the role. Her outfit, which often comprised a low-cut tank top and tight shorts, elicited comments. She was ranked as one of the worst Bond girls of all time by Entertainment Weekly in 2008, and was chosen as "Worst Supporting Actress" at the 1999 Razzie Awards for the role.
COUGARS, INC. Trailer: On Blu-ray & DVD May 10th 2011: MAPLE PICTURES
In addition to her film work, Richards has made appearances in the situation comedies Spin City, Two and a Half Men, Friends and Seinfeld. She also starred in the short-lived UPN series Sex, Love & Secrets in 2005. Throughout the early 2000s, Richards appeared in several film roles which both parodied and utilized her image as a sex symbol, including Valentine, Undercover Brother and Scary Movie 3. In December 2004, she posed for a nude pictorial in Playboy magazine, five months after giving birth. Richards also posed semi-nude for the July 2006 issue of Jane magazine to raise money for the Clothes Off Our Back Foundation. In 1999, she ranked 9th in Maxim's 50 Sexiest Women and in 2001 she was voted 2nd in FHM's USA 100 Sexiest Women, 5th in FHM's 100 Sexiest Women and 19th in AskMen.com's 50 Most Beautiful Women. In 2011, Richard appeared on Cougars, Inc. Film. Cougars, Inc., developed under the title Mother's Little Helpers, is a comedy indie film written and directed by Asher Levin about rebellious coming-of-age teenager Sam Lowell(Kyle Gallner). Sam has been kicked out of some of the top boarding across the country. Now, he finds himself making new friends and struggling to fit in at a prep-school in Southern California called Moore Prep. After Sam's mom is no longer able to afford his pricey tuition, he and his friends become escorts to the middle-aged women of the town in order to keep Sam in school and have some fun while they're at it. They meet a generation of Cougars desperate to stay fun, young, and sexy. Along the way they all learn a bit about life, love and the pursuit of happiness. This cautionary tale may teach the ladies and boys that everything is not always as it seems, and perhaps the grass is not always greener on the other side.
Denise Richard Looks So Sexy With Her Pink Dress
Denise Richard Glossy Make Up
Denise Richard Pretty Pose
Denise Richard Sexy Pose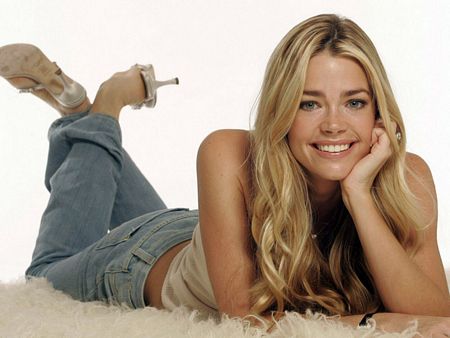 Denise Richard Beautiful Pose