Gwyneth Kate Paltrow (born September 27, 1972) is an American actress. She made her acting debut on stage in 1990 and started appearing in films in 1991. Paltrow gained early notice for her work in films such as Se7en (1995), Emma (1996) (in which she played the title role) and Sliding Doors (1998). She garnered worldwide recognition through her performance in Shakespeare in Love (1998), for which she won an Academy Award for Best Actress, a Golden Globe Award and two Screen Actors Guild Awards, for Outstanding Lead Actress and as a member of the Outstanding Cast. Since then, Paltrow has portrayed supporting as well as lead roles in films such as The Talented Mr. Ripley (1999), Shallow Hal (2001) and Proof (2005), for which she earned a Golden Globe nomination as Best Actress in Motion Picture Drama. In 2008, she appeared in the highest grossing movie of her career, the superhero film Iron Man (2008), and then reprised her role as Pepper Potts in its sequel, Iron Man 2 (2010). Paltrow has been the face of Estée Lauder's Pleasures perfume since 2005. She is married to Chris Martin, the lead vocalist of Coldplay.
Paltrow was born in Los Angeles, California, the daughter of Blythe Danner, an actress, and Bruce Paltrow, a film and television director and producer. Paltrow's father was of Ashkenazi Russian Jewish descent and her mother is a Quaker of Pennsylvania Dutch ancestry. Paltrow's paternal great-grandfather, whose surname was "Paltrowicz", was a rabbi in Nowogród, Poland. Paltrow has a younger brother, Jake Paltrow, and is a half-cousin of actress Katherine Moennig, and a second cousin of Congresswoman Gabrielle Giffords (AZ-08). Paltrow is a childhood friend of Saturday Night Live's Maya Rudolph. She was raised in Santa Monica, where she attended Crossroads School, before moving and enrolling in The Spence School, a private girls' school in New York City.[citation needed] Later, she briefly studied art history at the University of California, Santa Barbara, before dropping out to act.[citation needed] She is an "adopted daughter" of Talavera de la Reina (Spain), where at 15 she spent a year as an exchange student and learned to speak Spanish.
Paltrow made her professional stage debut in 1990. Her film debut followed next year with Shout (1991), starring John Travolta; later that year, she appeared in Hook (1991), as Young Wendy. Paltrow then had minor roles in Malice (1993) and Flesh and Bone (1993). She was next cast in a supporting role in Se7en (1995) alongside Brad Pitt and Morgan Freeman, which earned her a Satellite Award nomination.[citation needed] In 1996, she played the title character in Emma to critical acclaim, particularly in the United Kingdom, where her perfection of the English accent was appreciated.In 1998, Paltrow starred in Shakespeare in Love, portraying the fictional love of William Shakespeare, played by Joseph Fiennes. The film earned more than US$100 million in box office receipts in the United States and Paltrow gained critical acclaim for her portrayal. Entertainment Weekly commented, "Best of all is Gwyneth Paltrow, who, at long last, has a movie to star in that's as radiant as she is." The New York Times summed up her turn as Viola as such: "Gwyneth Paltrow, in her first great, fully realized starring performance, makes a heroine so breathtaking that she seems utterly plausible as the playwright's guiding light." The award-winning Shakespeare in Love earned Paltrow the award for Outstanding Performance by a Female Actor in a Leading Role from the Screen Actors Guild and the Academy Award for Best Actress, among other honors.In 1999, Paltrow co-starred in The Talented Mr. Ripley, which earned $80 million domestically and received positive reviews. She showcased her singing ability in 2000's Duets, which was directed by her father and co-starred singer Huey Lewis. The same year, Paltrow co-starred with Ben Affleck in the romantic drama Bounce as Abby Janello. She was part of an ensemble cast, as Margot Tenenbaum, in The Royal Tenenbaums (2001). Also in 2001, she starred with Jack Black in the comedy Shallow Hal, where she played both roles, slim and fat Rosemary, and had to wear a specially designed 25 pound fatsuit and heavy make-up.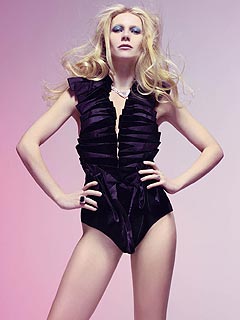 Since the Oscar for Shakespeare in Love, Paltrow's film success has been less noteworthy. She said she was unequipped for the pressure, leading to several bad movie choices, agreeing with peers who believe the win is, in some ways, a curse. In The Guardian, she said she divided her career into movies for love and films for money: The Royal Tenenbaums, Proof, and Sylvia fell into the former category, while she did View from the Top and Shallow Hal for the latter. As a new mother, Paltrow did not work much from 2004 to 2007. She appeared in the 2005 film Proof as a young protagonist, mathematician and daughter Catherine. The movie is based on the play of the same name, in which Paltrow also played the same character at London's Donmar Warehouse in 2002. In 2006, she had small roles in Running With Scissors and Infamous, in which she sang Cole Porter's "What Is This Thing Called Love?". In 2010, she reprised her role in the sequel to Iron Man, Iron Man 2. Later in 2010, she appeared in the country musical, Country Strong, where she also recorded the song Country Strong for the films' soundtrack. The song was released to country radio in August 2010. Paltrow will next shoot for Steven Soderbergh's virus thriller Contagion, in which she is part of an ensemble cast. She also appeared in Fox's Glee, as a substitute teacher who fills in for Matthew Morrison's character Will when he falls ill. She sang "Nowadays" from the musical Chicago with Lea Michele, Cee Lo Green's "Forget You", plus a mash-up of "Singin' In the Rain" and Rihanna's "Umbrella" with Morrison, Mark Salling and Chris Colfer in the episode. She later performed the former with Cee-Lo Green himself at the 2011 Grammy Awards.
Paltrow is a Save the Children artist ambassador, raising awareness about World Pneumonia Day. She is on the board of the Robin Hood Foundation, a charitable organization that works to alleviate poverty in New York City. In February 2009, Paltrow received a Grammy nomination for her reading of the classic bear books of author Bill Martin, Jr.. Paltrow had her singing debut in the 2000 film Duets, in which she performed a cover version of Smokey Robinson's "Cruisin'". The song was released as a single. The song went to number one in Australia, while Paltrow's rendition of the Kim Carnes classic "Bette Davis Eyes" reached number three. In the 2006 film Infamous, she sang "What Is This Thing Called Love". On September 27, 2006, Paltrow sang with rapper Jay-Z during his concert at Royal Albert Hall. She sang the chorus for "Song Cry", from the rapper's album Blueprint. In an interview, she said she would be at the concert but not that she would perform. She was quoted as saying "I'm a Jay-Z fan. He's my best friend." In May 2005, Paltrow became the face of Estée Lauder's Pleasures perfume. She appeared in Chicago on 17 August 2007, to sign bottles of the perfume, and on 8 July 2008, she promoted Lauder's Sensuous perfume in New York with the company's three other models. Estée Lauder donates a minimum of $500,000 of sales of items from the 'Pleasures Gwyneth Paltrow' collection to breast cancer research. In 2006, she became the face for Bean Pole International, a Korean fashion brand. In October 2007, she signed for a PBS television series Spain... on the road Again with Mario Batali that showcases the food and culture of Spain. In September 2008, she launched a weekly lifestyle newsletter, Goop, encouraging readers to 'nourish the inner aspect'. The website's title is derived from the initials of her first and last names. Each week, the newsletter focuses on an action: Make, Go, Get, Do, Be, and See. It has been ridiculed by E-Online, Vanity Fair, The Independent, and the UK's Daily Mirror.
In her early 20s, Paltrow was engaged for six months to Brad Pitt, whom she dated from December 1994 to May 1997. The engagement was called off, according to Paltrow, because she wasn't ready for marriage and later felt responsible for hurting Pitt since she was "such a mess" during that time in her life. Paltrow has since said that as this was her first high-profile relationship with another celebrity, it taught her the need for public discretion about her romantic life; she told Biography magazine, "I said things about being in a relationship [with Brad Pitt] that felt wrong to me even as I was saying them." Paltrow had an on-off three year relationship with Ben Affleck from 1997 to late 2000. They first dated from November 1997 to January 1999. Soon after their breakup, Paltrow convinced Affleck to work in the film Bounce with her; during the making of the film, which was shot in mid 1999, the couple started dating again and eventually broke up in October 2000. Paltrow has said that she stopped reading celebrity magazines in 1999. In October 2002, Paltrow met Chris Martin of the British rock group Coldplay backstage at a gig just three weeks after the death of her father Bruce Paltrow. They married on December 5, 2003 in a ceremony at a hotel in Southern California. On 14 May 2004, the couple had their first child, a girl named Apple Blythe Alison Martin. Paltrow explained the unusual first name on Oprah, saying: "It sounded so sweet and it conjured such a lovely picture for me – you know, apples are so sweet and they're wholesome and it's biblical – and I just thought it sounded so lovely and … clean! And I just thought, 'Perfect!'" The child's godfathers are Simon Pegg and Martin's bandmate, Jonny Buckland. Her second child, a boy named Moses Bruce Anthony Martin, was born on 8 April 2006, in New York City's Mount Sinai Hospital. Her son's first name was explained as the song, entitled "Moses", that her husband wrote for her before their wedding. Paltrow has stated that she cut down on work after becoming a mother. She has also said that she suffered from depression after the death of her father and after the birth of her second child. Paltrow lives in New York City and Belsize Park in London, in a house bought from Kate Winslet. She practices yoga daily, works out regularly with her personal trainer Tracy Anderson, and used to follow a macrobiotic diet until the birth of her children. She told People in 2005 that, "I'm not as stringent as I was in the past. Now I'll have cheese once in a while or white flour, but I still believe in whole grains and no sugar." Paltrow is friends with Madonna and fashion designer Valentino.
Gwyneth Paltrow straight hair style
Gwyneth Paltrow fashion
Gwyneth Paltrow great smile
Gwyneth Paltrow hot pose