Hilarie Ross Burton (born July 1, 1982) is an American actress. A former host of MTV's Total Request Live, she portrayed Peyton Sawyer on The CW drama One Tree Hill for six seasons. Burton gained wider recognition with leading roles in the films Our Very Own, Solstice and The List, and currently stars as Sara Ellis on the USA drama White Collar. Hilarie Burton was born on July 1, 1982 in Sterling, Virginia. She graduated from Park View High School in 2000, where she was student council treasurer her sophomore year, vice-president her junior year, and head cheerleader, student council president, and homecoming queen her senior year. Burton attended New York University and Fordham University. Burton's first big break came when working as a VJ for the Total Request Live on MTV. She was supposed to be a guest commentator for one segment but producers decided to offer her a permanent job. Burton had a small part on the TV series Dawson's Creek and this led to her role as Peyton Sawyer on the series One Tree Hill. She was nominated for a Teen Choice Award for "Choice TV Actress in a Drama/Action Adventure" for One Tree Hill in 2004. Burton was also nominated for the Teen Choice Award "Choice Breakout TV Star - Female" for One Tree Hill, in 2004. In 2005, she was nominated for a Teen Choice Award for "Choice TV Actress: Drama" for One Tree Hill.
In May 2009, the CW announced Burton would not be returning to the show for the seventh season in her role as Peyton. Burton appeared once on the television series Hey Dude. She made her feature film debut in Our Very Own, a comedy set in 1970s Nashville, and was featured on the cover of the Jan/Feb 2004 issue of American Cheerleader magazine. Our Very Own, whose ensemble cast features Allison Janney, Jason Ritter, and Cheryl Hines, was screened at the prestigious Sarasota Film Festival where Burton was honoured with a special 'Outstanding Ensemble Acting' award. The film was also nominated for an Independent Spirit Award. Burton appeared in Jack's Mannequin video, "The Mixed Tape" as Peyton Sawyer. Later, she recorded a song for The Road Mix: Music from the Television Series One Tree Hill, Volume 3 called Peyton's Podcast Mix. In 2008, Burton starred in the independent movie The List as Jo Johnston. Burton played Deborah Owens, mother of Lily Owens, in the major motion picture The Secret Life of Bees, based on the 2002 novel. Production began on January 7, 2008, in Lumberton, North Carolina. Burton's latest film project was The Sacrifice, and it is based on another book by Robert Whitlow (The List). She will be reunited with Malcolm McDowell and Gary Wheeler (director), who are also signed on for the project, which starts filming early next year. She is currently working on Provinces of Night, a film based on the novel by William Gay. Burton joined the cast of White Collar as a full-time series regular in Season 3.
Burton has three younger brothers and resides in Wilmington, North Carolina, where One Tree Hill is filmed. In 2004, Burton married One Tree Hill assistant director Ian Prange, son of executive producer Greg Prange. The two have since divorced. She has a cat named after writer Edgar Allan Poe, and is close friends with fellow One Tree Hill stars Bethany Joy Galeotti, Sophia Bush, James Lafferty and Chad Michael Murray. Burton's hobbies include collecting antiques, vintage clothes shopping, knitting and crocheting. In May 2007, Burton ranked #77 in the Maxim Hot 100 List of 2007. She has also appeared on the cover of the November 2006 edition of Maxim with One Tree Hill co-stars, Sophia Bush and Danneel Harris. In previous years, Burton has ranked #2 on Femme Fatales: The 50 Sexiest Women of 2005 and named #12 on Much Music's 20 Hottest Women of 2003. In 2007, Burton created her own production company, along with Nick Gray, Kelly Tenney, James Burton and Meg Mortimer, called Southern Gothic Productions (SoGoPro); more information is available on her blog. Burton is also on the North Carolina Film Council. Burton began dating fellow actor Jeffrey Dean Morgan in 2009. The couple welcomed a son named Gus in March 2010.
Hilarie Burton beautiful performance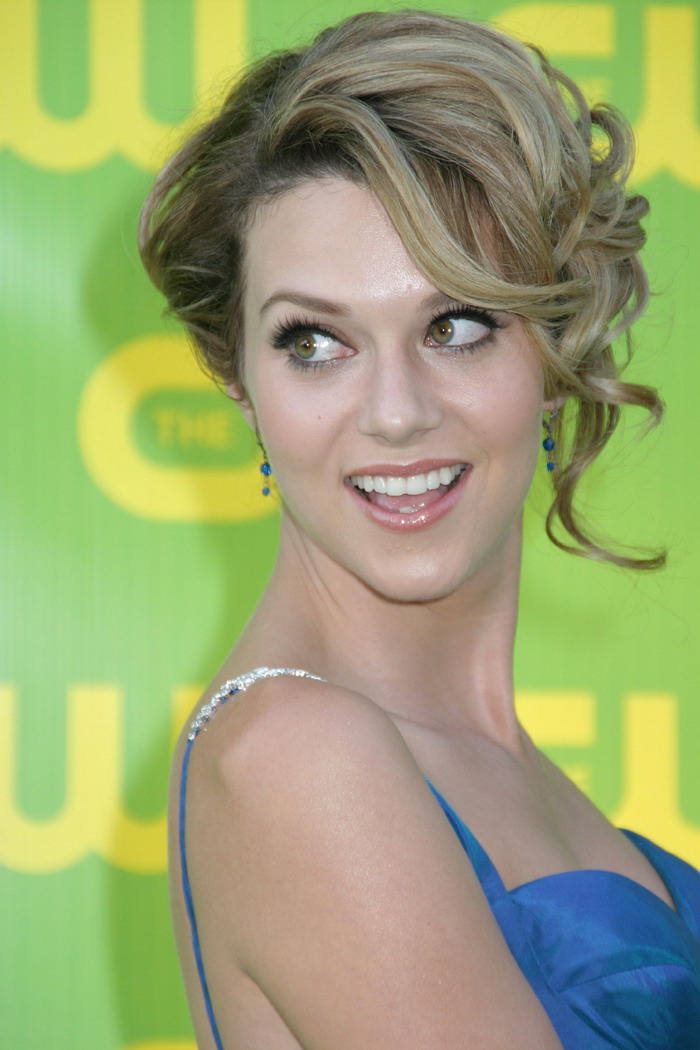 Hilarie Burton beautiful elegant performance
Hilarie Burton cute performance
Hilarie Burton with her curly hairstyle
Hilarie Burton beautiful straight hairstyle
Hilarie Burton beautiful performance with her curly hairstyle
Hilarie Burton beautiful smile pose