Amerie Mi Marie Rogers (born January 12, 1980), known professionally as Amerie or Ameriie, is an American singer, songwriter, producer and actress. She debuted in 2002 with the album All I Have, primarily co-written and produced by Rich Harrison, and was well-received in the urban market. In 2005, Ameriie released her biggest hit to date, "1 Thing", the lead single from her second album, Touch, which garnered her crossover recognition and earned two Grammy Award nominations. Her third album, Because I Love It, achieved moderate international success in 2007, although it was not released in North America, and she subsequently left her label Columbia Records. Ameriie released her fourth studio album, In Love & War, in 2009, her first album under Island Def Jam. Amerie was born to Korean mother, artist Mi Suk, and African American father, Charles. A few months after she was born, the Rogers family moved to her mother's native Korea, where Ameriie lived for three years. Her father, Charles, was a chief warrant officer, so Ameriie traveled to and lived in many different places, including South Korea, Alaska, Texas, Virginia, and Germany. He now works for the U.S. Intelligence Division United States military. She has a younger sister, Angela, who is now her lawyer. Amerie describes her parents as conservative, protective, traditional Christians.
Growing up, she and her sister were forbidden to leave the house or use the phone on school days. Amerie enrolled at Georgetown University to study literature, and was in Navy ROTC: "I was in the Navy ROTC. My dad didn't force me into it or anything. I joined so I could afford an education." She quit ROTC after her sophomore year, and graduated with a BA degree in English and Fine Arts minor in design. Ameriie's first language is Korean. In April 2005, Ameriie released her second album, Touch. As with All I Have, the album was co-written and produced by mentor Rich Harrison, who contributed seven (new) tracks to the record; additional productions came from Lil Jon, Bryce Wilson, Red Spyda, and Dre & Vidal. Unlike on her first album, Ameriie co-wrote every track but one, "Come with Me", which Harrison wrote. Touch debuted and peaked at number five on the Billboard 200 and number three on the Top R&B/Hip-Hop Albums, and it was certified gold by the RIAA in August that year; according to Nielsen SoundScan, it has sold 404,000 copies. It received two Grammy Award nominations in 2006: Best Female R&B Vocal Performance for its lead single, "1 Thing", and Best Contemporary R&B Album.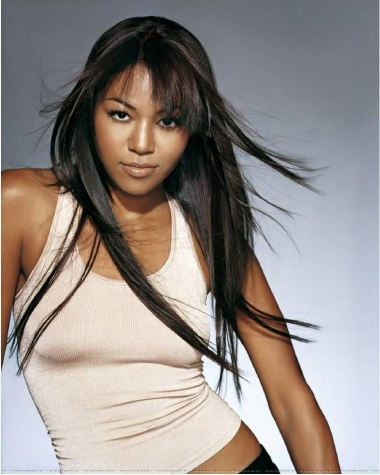 "Take Control", which was co-produced by Mike Caren, Ameriie and Nicholson and co-written by Ameriie and Cee-Lo Green, was the first single from the album and was released in the U.S. in late 2006. It failed to chart on the Hot 100, and peaked at sixty-six on the Hot R&B/Hip-Hop Songs chart. The album's North American release was pushed back several times, before being cancelled altogether after the failure of the second single, a remixed version of "That's What U R" featuring Fabolous and Slim Thug, to garner significant radio play. The single and album made greater impact in Europe: in the UK, "Take Control" became Ameriie's second top ten hit following "1 Thing", and Because I Love It entered at number seventeen on the UK Albums Chart upon its release in May 2007, eventually receiving a silver certification from the BPI for more than 60,000 copies issued. "Take Control" was nominated for Best Song at the MOBO Awards. Second single "Gotta Work" reached the top forty and was parlayed into an Asia-wide advertisement campaign for cable provider AXN's tenth anniversary. Ameriie was reportedly paid £750,000 for appearing in the accompanying television commercial, which was broadcast to just under a billion viewers across Asia. A third single, "Crush", was pulled from release amid reports that Ameriie had left her label Columbia Records.
In early 2007, it was reported that Korean pop sensation Seven would collaborate with Ameriie on the album. She has stated several times in interviews that she has been very eager to work with Korean pop/R&B singers, being a fan of K-pop herself. It was later reported that a re-worked version of "Take Control" featuring Se7en would be featured on the Asian editions of the album Because I Love It. In 2008, following her departure from Columbia Records, Ameriie signed a label/production deal with her imprint Feeniix Rising Entertainment, through the Island Def Jam Music Group. Ameriie's first album under Island Def Jam, In Love & War, was executively produced by LA Reid, manager LG Nicholson, and Ameriie herself, who described it as a "concept album". It features production from The Buchanans, Warryn Campbell, Bryan-Michael Cox, Sean Garrett, Eric Hudson, Jim Jonsin, Jonas Jeberg, Karma, Rico Love, M-Phazes, Teddy Riley, and TrackNova. For the second time, Rich Harrison did not make any contributions, although Ameriie said that she hoped to work with him on her fifth album. The singles issued from the album were "Why R U" (produced by Ameriie & The Buchanans), "Heard 'Em All", "Pretty Brown" (featuring Trey Songz) and "More Than Love" (featuring Fabolous); only the first two reached the Hot R&B/Hip-Hop Songs, at numbers fifty-five and eighty respectively. With little radio support, and hindered by distribution problems, In Love & War debuted at number forty-six on the Billboard 200 and number three on the Top R&B/Hip-Hop Albums.
Since the start of her career, Ameriie has been heavily involved within the creative process of her music, receiving not only writing credits but producing credits as well, Ameriie has also vocally produced, played instruments and arranged on her own music. Critics often feel that Ameriie is underrated in her own right, in an article from R&B/Hip Hop blog "Earstyle" wrote "Ameriie may be one of the most underrated chicks in the game. Not only does she writes her own songs, but she assists in the production, the creative process, and plays instruments on her own tracks. Talk about talented."" Rogers possesses a full lyric soprano, vocal range that spans three octaves. She's known for having an aggressive vocal delivery, incorporated with a soulful and emotive, distinct tone. During an interview & biography from "My-Play", it reads, "Although the musical inspiration is broad, the arrangement of the material is signature Amerie: strong, aggressive vocals; beautiful melodies, and lush harmonies." & continued to say " With her trademark raw, raspy, heartfelt delivery, and her angelic falsetto, Amerie is one of music's most versatile, vocally honest artists". Entertainment Weekly said "This young singer may not have the gospel pitch of artists like Beyoncé and Alicia Keys, but when it comes to revitalizing R&B & Pop, this much is certain: She's definitely got the right Touch".USA Today says "Amerie's light but supple soprano brings to mind the kind of adjectives you might hear in a commercial for citrus-scented shampoo: silky, tangy, lustrous. It's the kind of voice that a less-savvy singer might have wasted on sappy ballads, but on her sophomore CD, Amerie applies it to more groove-driven material.
London's newspaper the Evening Standard marks that Amerie, has a "shrill but soulful voice". The Guardian highly praises Amerie's voice citing "it would be no exaggeration to call Amerie one of the greatest singers in pop music. Her vocal performances are extraordinary: she catches the fleeting thrills and momentary rushes of intensity that permeate otherwise mundane days, and stretches those feelings out across four-minute songs without ever letting up. Every word is delivered as if she is utterly consumed in the moment; the result is heady and intoxicating." Jimmy Draper of New York Time Out describes her voice as "soulful, consistently controlled vocals." Blender magazine also commented on her "frantic, top-of-her-range vocals." Stylus Magazine writes "Unsurprisingly, the '60s-influenced tracks are far and away the more interesting. Much of that has to do with Amerie's vocal performances. "Hate 2 Love U" and "Gotta Work" are on-point rave-ups of James Brown and Stax, respectively, while "Paint Me Over" is vintage Dionne Warwick, complete with drawn-out phrasing. They walk the fine line between homage and imitation, but Amerie's singing is fervent and willing, commanding these songs more than interpreting them." Vibe magazine says "The strikingly beautiful Korean-African American chanteuse doesn't have a flawless voice; like Mary J Blige, Amerie often strains to reach those higher notes, But also like Mary-and a few other today, Amerie sings from the gut." Roger's music is generally contemporary R&B, but she also incorporates pop, funk, hip hop, soul, go-go, rock and new wave into her albums. While she almost exclusively releases English songs, Amerie has recorded a few English songs with some Korean artists such as 4minute and Se7en.
Amerie Rogers beautiful face pose
Amerie Rogers sexy pose with sexy hotpant
Amerie Rogers sexy summer costume fashion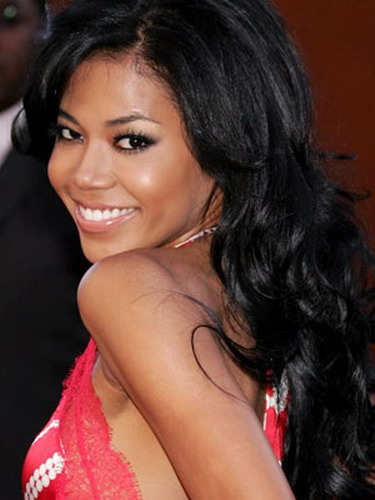 Amerie Rogers smile pose