Shannon Marie Kahololani Sossamon (born October 3, 1978) is an American actress. She starred in the film A Knight's Tale, which gained her wider fame and praise. She has since established herself in Hollywood after starring in several films such as 40 Days and 40 Nights, Wristcutters: A Love Story, and One Missed Call. Sossamon also had a starring role in the CBS's vampire drama Moonlight.Sossamon was born in Honolulu, Hawaii, the daughter of Sherry Sossamon, a nurse, and Todd Lindberg; her mother later re-married Randy Goldstein. She is of Dutch, English, Irish, German, French, Filipino, and Hawaiian descent. The y in her first name was an adolescent alteration in 1995. Sossamon grew up in Reno, Nevada, and attended Galena High School there. The day after her high school graduation, Sossamon moved to Los Angeles to pursue a career in dance. After moving to Los Angeles, Sossamon began to work as a DJ, booking gigs in local clubs.At the beginning of her career, Sossamon modeled for various companies including Sassy Magazine, Unionbay Clothing, American Eagle Outfitters, and Planned Parenthood. She also appeared in two television commercials for Gap and starred in music videos for artists such as Daft Punk, The Goo Goo Dolls, Cher, Mick Jagger, DJ Quik, and Korn.
During 1997, she appeared as a fashion model, a girl and a trophy presenter in several Mr. Show episodes. In 1999, Sossamon was discovered by casting director Francine Maisler, while assisting a fellow DJ at Gwyneth Paltrow's brother's birthday party. After going through several auditions, Sossamon beat Kate Hudson for the lead female role in the 2001 film A Knight's Tale opposite Heath Ledger. The film received generally positive reviews and performed strongly at the box office, with a domestic take of more than $55,000,000. Sossamon began to receive a lot of attention from Hollywood, and praise from film critics. A Knight's Tale garnered her a Young Hollywood Award for Breakthrough Female Performance as well as two Teen Choice Awards nominations and four MTV Movie Awards nomination, including for "Best Breakthrough Performance". In 2002, she starred in Miramax Films' romantic comedy 40 Days and 40 Nights, alongside Josh Hartnett. The film received mixed reviews from critics but was considered a box office success after earning a worldwide total of $95,146,283. Sossamon was nominated for Teen Choice Award for "Choice Film Chemistry", which was shared with co-star Hartnett. That same year, Sossamon played a lead role in Roger Avary's dark satirical ensemble The Rules of Attraction, an adaptation of the Bret Easton Ellis book of the same name.
The film included scenes of suicide, heavy drug use, and sexual content. The film received extremely mixed reviews from critics; most either loving it or hating it. Rolling Stone called the film "a perverse and sickly delightful treat," while Richard Roeper stated that he "hated this movie." Despite the mixed critical reception, the film is considered a cult hit. The film grossed $11,819,244 worldwide, almost tripling its budget. Sossamon and Heath Ledger were cast together again and starred in the supernatural thriller The Order. The film was released in late 2003. It was received very poorly by critics and flopped at the box office. After shooting the unsuccessful movie, she became pregnant and decided that it was a good time to take a short break from acting. In 2004, Sossamon guest starred on the episode "Doubt" on the popular NBC series Law & Order: Special Victims Unit. It was her only acting appearance of the year. Sossamon returned to film in 2005, by starring in the direct-to-video low-budget horror film Devour, alongside Jensen Ackles and William Sadler. She had small roles in the films Undiscovered and Kiss Kiss Bang Bang. The former was a box-office and critical failure, while the latter received critical praise but failed commercially, grossing only $13,105,837 compared to a budget of $15 million.
She also appeared alongside Kate Winslet, Jack Black, Cameron Diaz, and Jude Law in Nancy Meyers's 2006 romantic comedy The Holiday. In 2006, Sossamon was cast as the female lead in the independent film Wristcutters: A Love Story opposite Patrick Fugit, Tom Waits, and Will Arnett. Wristcutters revolved around two characters who fall in love in purgatory after committing suicide. It was shown at both The Sundance Film Festival and The Seattle International Film Festival Awards in 2006. It was nominated for several awards including Sundance's Grand Jury Prize, two Independent Spirit Awards, the Humanitas Prize. Her chemistry with co-star Fugit was praised by View London, commenting "Patrick Fugit and Shannyn Sossamon are both superb, generating a sweet chemistry and sparking off each other well. Sossamon, in particular, gives her best performance to date.
Sossamon starred as the lead female, Beth Raymond, in One Missed Call, was a remake of the Japanese horror film Chakushin Ari. The film also stars Ed Burns, Azura Skye, Margaret Cho, and Ray Wise. The film was savaged by critics, but was considered a major box-office success, grossing more than $42,000,000 worldwide. It was also considered a success on DVD and Blu-Ray, generating sales of more than $25,000,000 since its release on April 22, 2008. For her performance in the film, she received a Teen Choice Award nomination for "Choice Film Actress: Horror". The following year, she played as Concetta, a woman faced with the challenges of raising her sick child and supporting her husband in the 2009 drama film Life Is Hot in Cracktown, directed by Buddy Giovinazzo, and co-starring Kerry Washington, Victor Rasuk, Lara Flynn Boyle and Brandon Routh. She appeared in the thriller film The Heavy. The film was released on 16 April 2010 direct-to-video in the United States and received a limited theatrical release in the UK on the same day. Sossamon has two tattoos, including an S with a flower on her right back shoulder standing for Sherry, her mother's name. She also has a small tattoo on her left wrist that says 'heart'. Graham Coxon's fifth solo album, Happiness in Magazines, features a song called "Spectacular", which he reportedly wrote about Sossamon after seeing her picture on the internet. Sossamon continues to study acting, music and dance. She was the original drummer in the Los Angeles psychedelic band Warpaint, with her sister Jenny Lindberg, but decided to leave the band to focus on acting. Her sole recording with the band is the 2009 EP, Exquisite Corpse. She once dated children's book illustrator and author Dallas Clayton, with whom she has a son, Audio Science Clayton, who was born on May 29, 2003.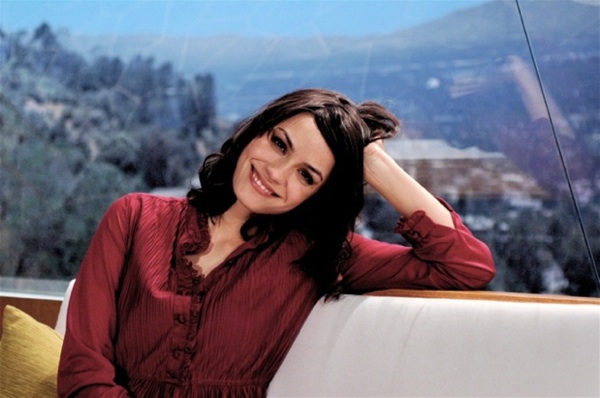 Shannyn Sossamon beautiful performance with beautiful smile
Shannyn Sossamon hot performance
Shannyn Sossamon cute performance
Shannyn Sossamon short hairstyle with bangs
Shannyn Sossamon cute smile pose