Keira Christina Knightley (born 26 March 1985) is an English actress and model. She began acting as a child and came to international notice in 2002 after co-starring in the film Bend It Like Beckham. From 2003 her appearances in the Pirates of the Caribbean film series took her to much greater prominence. Knightley has appeared in several Hollywood films and earned nominations for the Academy Award for Best Actress and Golden Globe Award for Best Actress for her role as Elizabeth Bennet in Joe Wright's 2005 adaptation of Jane Austen's novel Pride and Prejudice. Two years later she again was nominated for the Golden Globe Award for Best Actress, as well as the BAFTA Award for Best Actress in a Leading Role for her performance in Atonement. In 2008, Forbes claimed Knightley to be the second highest paid actress in Hollywood, having reportedly earned $32 million in 2007, making her the only non-American on the list of highest paid actresses. Knightley was born in Teddington, London, England, the daughter of Sharman MacDonald, an award-winning playwright, and Will Knightley, a theatre and television actor.
Her father is English and her Scottish mother is of half Welsh ancestry. She has an elder brother, Caleb. Knightley, born Kiera, switched her name to Keira to make it easier for international audiences to pronounce. Knightley lived in Richmond, attending Stanley Junior School, Teddington School and Esher College. She was diagnosed with dyslexia at the age of six, but nevertheless was successful in school and was thus permitted to acquire a talent agent and pursue an acting career. She requested an agent as early as the age of three and got one when she turned six, from her mother as a reward for studying hard. Knightley has noted that she was "single-minded about acting" during her childhood. She performed in a number of local amateur productions, including After Juliet (written by her mother) and United States (written by her then drama teacher, Ian McShane, no relation to the actor). She focused on art, history, and English literature while at Esher, but left after a year to focus on her acting and she also turned down her spot at the London Academy of Music and Drama. After getting an agent at 6, she did worked on mostly commercials and small TV roles. Her first role was "Little Girl" in Royal Celebration, a 1993 TV movie. A year later, she had a small role in the movie A Village Affair. She later starred in 1995's Innocent Lies and 1998's Coming Home. She was a princess in the 1996 movie The Treasure Seekers. Later in 1999, she appeared as Rose in Oliver Twist.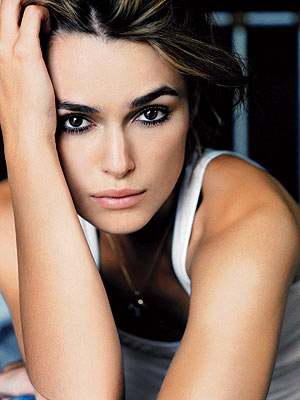 In 2006, Knightley was invited to join the Academy of Motion Picture Arts and Sciences. Her biggest financial hit thus far, Pirates of the Caribbean: Dead Man's Chest, was released in July. Knightley starred in three major films in 2007: Silk, an adaptation of the novel by Alessandro Baricco, Atonement, a feature film adaptation of Ian McEwan's novel of the same name (co-starring James McAvoy, Vanessa Redgrave, and Brenda Blethyn), and Pirates of the Caribbean: At World's End, which was released in May 2007. For her performance in Atonement, Knightley was nominated for a Golden Globe Award in the Best Dramatic Actress category for the role, as well as a BAFTA Award. Critic Richard Roeper was puzzled by both Knightley's and McAvoy's Academy Award snubs, stating "I thought McAvoy and Knightley were superb." In the late spring of 2007, Knightley shot The Edge of Love with Cillian Murphy as her husband, Matthew Rhys as her childhood sweetheart, Welsh poet Dylan Thomas, and Sienna Miller as Thomas' wife Caitlin Macnamara. She received positive reviews for her role. The 2008 release was penned by Knightley's mother, Sharman Macdonald, and directed by John Maybury.
She then filmed The Duchess, based on the best-selling biography, Georgiana, Duchess of Devonshire by Amanda Foreman, in which she played Georgiana Cavendish, Duchess of Devonshire; the film was released in cinemas on 5 September 2008 in the U.K. Knightley appears in the drama Last Night, in which she co-starred with Eva Mendes, Sam Worthington, and Guillaume Canet; it was directed by Massy Tadjedin. In April 2009, Knightley began work on an adaptation of Kazuo Ishiguro's dystopian novel, Never Let Me Go with Andrew Garfield and Carey Mulligan. Filming took place in Norfolk and Clevedon in Somerset. Knightley made her West End debut in Martin Crimp's version of Molière's comedy, The Misanthrope, at the Comedy Theatre in London alongside Damian Lewis, Tara FitzGerald, and Dominic Rowan. in December 2009. Reviews for her portrayal of Jennifer in the play were generally positive. The Daily Telegraph described her performance as revealing "both power and poignancy" and The Independent called her performance "not only strikingly convincing but, at times, rather thrilling in its satiric aplomb" The Guardian, however, noted that due to the nature of the role "one could say that she is not unduly stretched" and The Daily Mail described her as "little better than adequate" and "dull" and the Daily Express stated that "Her lack of stage experience is sometimes painfully evident." Knightley has been nominated for the Laurence Olivier Award as Best Supporting Actress as Jennifer in The Misanthrope, recognising her theatre debut. Knightley also received an Evening Standard Award nomination for the Natasha Richardson Award for Best Actress.
Knightley is the face of an Amnesty International campaign to support human rights, marking the 60th anniversary of the United Nation's Universal Declaration of Human Rights. As part of the campaign, the star also made a short film. Knightley stated she wanted to help raise awareness of the UDHR and human rights abuses. She said "The UDHR is something that everyone should be aware of and be proud of as a statement of our common humanity." She posed for photos for WaterAid in 2005 and also for the American Library Association's "Read" campaign (A promotional poster of Pride and Prejudice). Knightley contributed her voice to a 2007 Robbie the Reindeer animation, all profits of which will be donated to Comic Relief. In 2004, she travelled to Ethiopia with a group that included Richard Curtis, who had directed her in Love, Actually, on behalf of that charity. In April 2009, Knightley appeared in a video to raise awareness of domestic abuse entitled Cut. The video was directed by Joe Wright, who directed Knightley in Pride and Prejudice and Atonement, and shot for "Women's Aid," a British women and children aid group. The video has created controversy, with some sources calling it too graphic, while other groups support the video for showing a realistic depiction of domestic violence. In November 2010, Knightley became patron of The SMA Trust, a British charity that funds medical research into the children's disease Spinal Muscular Atrophy. In March 2011, she appeared briefly in the Smithy sketch for Red Nose Day 2011, alongside Sir Paul McCartney, former Prime Minister Gordon Brown, Davina McCall, Justin Bieber and JLS, amongst others.
Knightley, who lives in London, had a relationship with her Pride & Prejudice co-star Rupert Friend from 2005 until the couple split in December 2010. She has reportedly been dating James Righton since late February 2011. Knightley has denied rumours she is anorexic, although she did say—after her appearance at the Pirates of the Caribbean: Dead Man's Chest premiere led to media speculation that her extremely slender figure was due to an eating disorder—that her family has a history of anorexia. Knightley sued the Daily Mail after they claimed she lied about having anorexia; the article said that a teenage girl died from anorexia, indicating that Knightley's physical appearance may have influenced her in some way. She was awarded a settlement. In July 2006, Knightley said she has become a workaholic, detailing that "the last five years have blended into one. I can't tell you what was last year and what was the year before" and specifying that she was "working too much" and was "quite frightened that if I continue at this rate I will start to hate what I love," suggesting that she would take a one-year break from acting to travel and focus on her personal life.
Keira Knightley beautiful face pose
Keira Knightley sexy performance with her sexy dress
Keira Knightley beautiful smile pose
Keira Knightley elegant performance