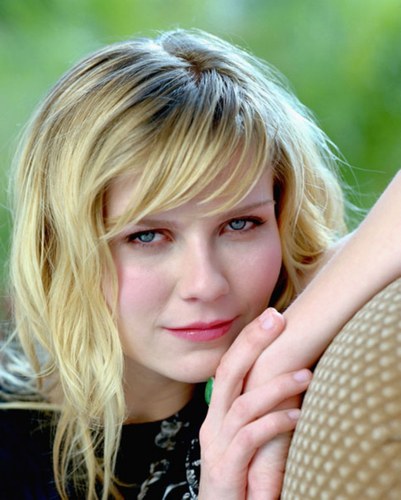 Kirsten Caroline Dunst (born April 30, 1982) is an American actress, singer and model. She made her film debut in Oedipus Wrecks, a short film directed by Woody Allen for the anthology New York Stories (1989). At the age of 12, Dunst gained widespread recognition playing the role of vampire Claudia in Interview with the Vampire (1994), a performance for which she was nominated for a Golden Globe Award for Best Supporting Actress. The same year she appeared in Little Women, to further acclaim. Dunst achieved international fame as a result of her portrayal of Mary Jane Watson in the Spider-Man trilogy (2002–07). Since then her films have included the romantic comedy Wimbledon (2004), the romantic science fiction Eternal Sunshine of the Spotless Mind (2004) and Cameron Crowe's tragicomedy Elizabethtown (2005). She played the title role in Sofia Coppola's Marie Antoinette (2006) and starred in the comedy How to Lose Friends & Alienate People (2008). She won the Best Actress Award at the Cannes Film Festival in 2011 for her performance in Lars von Trier's Melancholia.
In 2001, Dunst made her singing debut in the film Get Over It, in which she performed two songs. She also sang the jazz song "After You've Gone" for the end credits of the film The Cat's Meow (2001). Dunst was born at Point Pleasant, New Jersey, to Inez (née Rupprecht) and Klaus Dunst. She has one younger brother. Her father worked as a medical services executive, and her mother was an artist and one-time gallery owner. Dunst is of German descent on her father's side, and Swedish on her mother's. Until the age of six, Dunst lived in Brick Township, New Jersey, where she attended Ranney School. In 1991, she moved with her mother and younger brother to Los Angeles, California, where she attended Laurel Hall Day School. In 1995, her mother filed for divorce. The following year Dunst began attending Notre Dame, a private Catholic high school in Los Angeles. After graduating from Notre Dame, Dunst continued the acting career that she had begun at the age of eight. As a teenager, she found it difficult to deal with her rising fame, and for a period she blamed her mother for pushing her into acting as a child.
However, she later expressed that her mother "always had the best intentions". When asked if she had any regrets about the way she spent her childhood, Dunst said: "Well, it's not a natural way to grow up, but it's the way I grew up and I wouldn't change it. I have my stuff to work out ... I don't think anybody can sit around and say: 'My life is more screwed up than yours.' Everybody has their issues." Dunst began her career when she was three years old as a child fashion model in television commercials. She was signed with Ford Models and Elite Model Management. At the age of eight years old she made her film debut in a minor role in Woody Allen's Oedipus Wrecks, a short film that was released as one-third of the anthology New York Stories (1989). Soon after, she landed a small part in The Bonfire of the Vanities (1990), as Tom Hanks's daughter. In 1993, Dunst played Hedril in "Dark Page," the seventh episode of the seventh season of Star Trek: The Next Generation. In 2007 she again played Mary Jane Watson, in Spider-Man 3. In contrast to the previous two films' positive reviews, Spider-Man 3 was met with a mixed reception by critics.
Nonetheless, with a total worldwide gross of $891 million, it stands as the most commercially successful film in the series and Dunst's highest grossing film to the end of 2008. Having initially signed on for three Spider-Man films, she revealed that she would do a fourth, but only if Raimi and Maguire also returned. In January 2010 it was announced that the Spider-Man franchise would be restarted, thus dropping Dunst, Maguire, and Raimi from the film series. In 2008, Dunst starred alongside Simon Pegg in How to Lose Friends and Alienate People, an adaptation of the memoir of the same name by former Vanity Fair contributing editor Toby Young. After she signed on to the film, she revealed that she had joined the project because Pegg was scheduled to appear in it. Since 2010, Dunst's work has included directing the short film Bastard which premiered at the Tribeca Film Festival in 2010, and was later featured at the 2010 Cannes Film Festival. Her next role was in a leading role opposite Ryan Gosling in the romantic drama All Good Things (2010) in which she portrays a woman from a run-down neighborhood who goes missing.
The feature received reasonable reviews, and earned $640 thousand worldwide. Dunst stars in Lars von Trier's science-fiction film Melancholia as a depressed woman at the end of the world. The film, which also stars Charlotte Gainsbourg, Kiefer Sutherland and Charlotte Rampling premiered at the 2011 Cannes Film Festival. Dunst won the Best Actress Award award for her performance. Dunst made her singing debut in the 2001 film Get Over It, performing two songs written by Marc Shaiman. She also lent her voice to the end credits of The Cat's Meow, singing Henry Creamer and Turner Layton's jazz standard "After You've Gone." In Spider-Man 3, she sings two songs as part of her role as Mary Jane Watson, one during a Broadway performance, and one as a singing waitress in a jazz club. Dunst revealed that she recorded the songs earlier and later lip-synced to it when filming began. She also appeared in the music video for Savage Garden's "I Knew I Loved You," and she sang two tracks, "This Old Machine" and "Summer Day", on Jason Schwartzman's 2007 solo album Nighttiming. In an interview with The Advertiser, Dunst explained that she has no plans to follow the steps of actors such as Russell Crowe or Toni Collette's in releasing an album, saying: "Definitely not. No way. It worked when Barbra Streisand was doing it, but now it's a little cheesy, I think. It works better when singers are in movies."
Dunst is not married and has not been identified with a long-term partner. She has reportedly been involved in short-term relationships with playwright Jeff Smeenge, actor Jake Gyllenhaal, and musician Johnny Borrell of Razorlight. Dunst was treated for depression in early 2008 at the Cirque Lodge treatment center in Utah. She explained that she had been feeling low in the six months before her admittance. In late March she checked out of the treatment center and began filming All Good Things. In May she went public with this information in order to highlight the struggle faced by so many other successful women and to dispel false rumors that had been very painful for her friends and family. Dunst supported Democratic candidate John Kerry in the 2004 U.S. presidential election. Four years later, she supported Democrat Barack Obama in the 2008 presidential election. Dunst revealed that she supported Obama "from the beginning" of the presidential campaign. In support of this, she directed and narrated a documentary entitled Why Tuesday, explaining the United States tradition of voting on Tuesdays. Dunst explained that Tuesday is "not a holiday, and [the United States is] one of the lowest democratic countries in voter turnout." She felt it important to "influence people in a positive way" to vote on November 4.
Kirsten Dunst red hot pose
Kirsten Dunst hot extreme pose
Kirsten Dunst sexy performance
Kirsten Dunst beautiful pose