Kara Elizabeth DioGuardi (born December 9, 1970) is an American singer-songwriter, record producer, music publisher, A&R executive, composer and TV personality. She writes music primarily in the light pop-rock, dance, and R&B genres. DioGuardi has worked with many popular artists; her songs have appeared on more than 159 million albums worldwide. DioGuardi is a Grammy nominated writer, 2011 NAMM Music For Life Award winner, 2009 NMPA Songwriter Icon Award winner, 2007 BMI Pop Songwriter of the Year, and has received 15 BMI Awards for co-writing the most performed songs on the radio. DioGuardi served as a judge on American Idol for its eighth and ninth seasons. In 2008 she was appointed to the position of executive vice president of talent development at Warner Bros. Records, and has signed acts such as Jason Derülo and Iyaz. She is currently the head judge on Bravo's singer-songwriter competition series Platinum Hit. DioGuardi was born in Ossining, New York. She is of Arbëresh (Albanian) and Italian descent and was raised Roman Catholic. Her father is former Republican Congressman Joseph J. DioGuardi. She is a 7th cousin, once removed of the veteran TV personality Regis Philbin.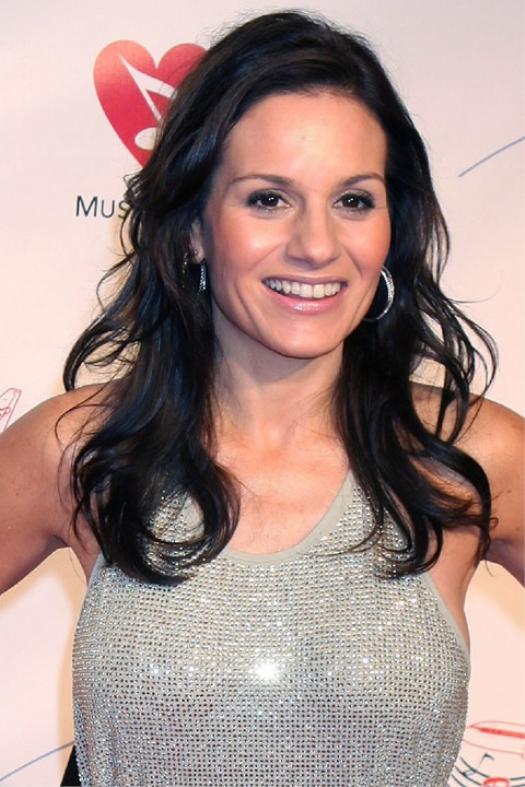 Her mother Carol died in 1997 after a 7-year battle with ovarian cancer. DioGuardi grew up in the Wilmot Woods section of suburban New Rochelle, New York, and attended kindergarten at the Immaculate Heart of Mary Catholic School in Scarsdale, New York, followed by The Masters School in Dobbs Ferry, New York, before earning a degree in political science at Duke University. After graduating from college, she worked for Billboard magazine as an assistant to Timothy White and Howard Lander and later as an advertising sales representative. In 2007, DioGuardi worked with many notable artists, one of whom was Britney Spears. DioGuardi wrote and produced"Ooh Ooh Baby" and co-produced "Heaven on Earth" on Spears' album Blackout. DioGuardi also contributed a majority of songs on Hilary Duff's fourth studio album, Dignity. Since American Idol Season 8, DioGuardi returned to songwriting and producing, and has worked with number of artists, including Pink's "Sober," Kelly Clarkson's "I Do Not Hook Up," Cobra Starship ft./ Leighton Meester "Good Girls Go Bad," Katharine McPhee's "Had It All", Carrie Underwood's "Undo It", and Theory of a Deadman's "Not Meant to Be" among other new releases. Among DioGuardi's projects is the song "Not Meant to Be", which appears on Theory of a Deadman's 2008 album, Scars & Souvenirs. DioGuardi co-wrote the song with lead singer Tyler Connolly, and is also featured as the love interest in the music video which was released on March 10, 2009. This was her debut in the music video industry.
In 2009, DioGuardi wrote "If I Can't Have You" for Meat Loaf's 2010 album, Hang Cool Teddy Bear and recorded the vocal as a duet with Meat Loaf. She is also one of the writers for "Ghost", which was released as a single from Fefe Dobson's album Joy (2010). DioGuardi co-owns Arthouse Entertainment, a publishing company that is a resource business for record companies and other music entities seeking compositions, productions, artists, and related music services. Arthouse has been a part of many chart-topping hits including B.O.B's "Nothin' On You," Bruno Mars' "Just The Way You Are" and "Grenade," Cee-Lo Green's "Forget You," Flo Rida's "Club Can't Handle Me," Cassie's "Me & U" (written and produced by Ryan Leslie), Jim Jones' "We Fly High" (produced by Zukhan Bey), Nick Lachey's "What's Left of Me", David Archuleta's single "Crush" (written and produced by Emanuel Kiriakou), Mika's "Grace Kelly", OneRepublic's "Apologize" and "Stop and Stare" (all produced by Greg Wells), Faith Hill's "Lost" (written and produced by Kara DioGuardi and Mitch Allan), "Sober" by P!nk, "Pieces of Me" by Ashlee Simpson, and "He Could Be The One" by Hannah Montana.
In July 2006, DioGuardi was a judge in an Idol-like TV show called The One: Making a Music Star. The show debuted on ABC with the second-lowest rating ever for a premiere on a major American network and was abruptly canceled after just two weeks.She joined the hit Fox television show American Idol as a fourth judge for the show's eighth season in 2009. She returned to Idol for its ninth season. However, she decided to leave the show on September 3, 2010 and did not return for the tenth season of Idol. She has had Idol connections in the past: in 2000, DioGuardi and former Idol judge Paula Abdul co-wrote the UK number-one single "Spinning Around", performed by Kylie Minogue. She has written many songs sung by Idol winners and alumni such as Kelly Clarkson, Allison Iraheta, David Archuleta, Carrie Underwood, Diana DeGarmo, Katharine McPhee, Kris Allen, Danny Gokey, and Adam Lambert. She co-wrote the American Idol season 8 single, "No Boundaries", which was performed by both finalists during the competition. DioGuardi struggled to find her place among the judges. In Richard Rushfield's book, "American Idol: The Untold Story," he reveals that often the other judges would leave the studio during commercial breaks, leaving DioGuardi behind to awkwardly sit by herself.Kara also co-wrote with Jason Reeves a song called "Terrified" for Katharine McPhee's album Unbroken, which was covered by Didi Benami, an American Idol contestant from Season 9, during Hollywood week.
Kara Dioguardi with her trophy in Music Award
Kara Dioguardi hot pose
Kara Dioguardi beautiful performance
Kara Dioguardi smile