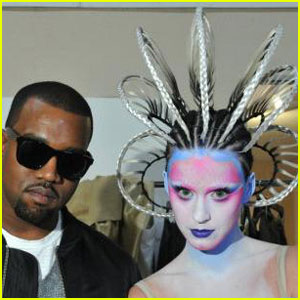 "E.T." is a song by American recording artist Katy Perry from her third studio album Teenage Dream (2010). Written by Perry, Dr. Luke, Max Martin, and Ammo, and produced by the last three, it was released as the album's third promotional single on August 17, 2010. The song was later announced as the album's fourth single and released on February 16, 2011. The single version features vocals by American rapper Kanye West, who also appears in its Floria Sigismondi-directed music video, which was released on March 31, 2011. Over a "stomp-stomp-clap" beat similar to Queen's "We Will Rock You" (1977), "E.T." is an electronic ballad that tells of "falling in love with a foreigner". Extraterrestrial metaphors are used throughout, and West continues these metaphors in his two verses, making heavy use of Auto-Tune at times. Though the song was widely noted for its darker and more mature theme, in contrast to Perry's conventional works, critics were overall mixed in response. West's presence on the single also received divided opinions. The single topped the Billboard Hot 100—the fourth from Teenage Dream to do so—and is Perry's fifth number one on the chart. It has peaked elsewhere at number one in New Zealand, number five in both Australia and Canada, as well as within the top forty in Austria, Ireland, the Netherlands, and the United Kingdom.
Katy Perry - E.T. ft. Kanye West
Song
The decision to write "E.T." came after its beat was accidentally played in the recording studio—it was originally intended for American hip hop group Three 6 Mafia. Admiring its acoustics, Perry chose to work with the track, wishing to write a "futuristic, alienistic song". Following up to the release of Teenage Dream, "E.T." was released as the third and final promotional single on August 17, 2010. In December 2010, Perry asked fans for their opinion on Teenage Dream's next single, through the social networking site Twitter. Speculation arose that "Peacock" would be its next single, but "E.T." was eventually announced as the record's fourth single through her Facebook page. The announcement was accompanied by the single's artwork, which features Perry with cat eye make-up, bangs, and a sequined top. The single version features vocals from American rapper Kanye West and was released on February 16, 2011.An album track of three minutes and twenty-six seconds, "E.T." is an electronic pop and hip hop ballad, with elements of teen pop. BBC Music described the song as a "rave-influenced quasi ballad". It written by Perry, Lukasz Gottwald, Max Martin, and Joshua Coleman, and produced by the last three, with Gottwald and Coleman credited as Dr. Luke and Ammo.
Kanye Omari West (born June 8, 1977) is an American rapper, singer, and record producer. West first rose to fame as a producer for Roc-A-Fella Records, where he eventually achieved recognition for his work on Jay-Z's album The Blueprint, as well as hit singles for musical artists including Alicia Keys, Ludacris, and Janet Jackson. His style of production originally used pitched-up vocal samples from soul songs incorporated with his own drums and instruments. However, subsequent productions saw him broadening his musical palette and expressing influences encompassing '70s R&B, baroque pop, trip hop, arena rock, folk, alternative, electronica, synth-pop, and classical music. West released his debut album The College Dropout in 2004, his second album Late Registration in 2005, his third album Graduation in 2007, his fourth album 808s & Heartbreak in 2008, and his fifth album My Beautiful Dark Twisted Fantasy in 2010. His five albums, all of which have gone platinum, have received numerous awards, including a cumulative fourteen Grammys, and critical acclaim. All have been very commercially successful, with My Beautiful Dark Twisted Fantasy becoming his fourth consecutive #1 album in the U.S. upon release. West also runs his own record label GOOD Music, home to artists such as John Legend, Common and Kid Cudi. West's mascot and trademark is "Dropout Bear," a teddy bear which has appeared on the covers of three of his five albums as well as various single covers and music videos. About.com ranked Kanye West #8 on their "Top 50 Hip-Hop Producers" list. On May 16, 2008, Kanye West was crowned by MTV as the year's #1 "Hottest MC in the Game." On 17 December 2010, Kanye West was voted as the MTV Man of the Year by MTV.
Music Publishing, the song was originally published in F minor and follows a slow tempo of 76 beats per minute in common time. Perry's voice spans E♭4 to D♭5. According to Ann Powers of the Los Angeles Times, "E.T." carries influences from Barbadian singer Rihanna and features Perry using a "hip-hop diva's stutter". The song's instrumentals have been described as "a mishmash and bleeps and blips with a driving drum track". Darryl Sterdan of the QMI Agency noted the song uses the "stomp-stomp-clap" beat from Queen's "We Will Rock You" (1977), while Allmusic's Stephen Thomas Erlewine noted similarities to productions by Ryan Tedder. Matthew Perpetua of Rolling Stone felt the song was similar in sound to hard rock ballads by Evanescence. According to Perry, the song is about "falling in love with a foreigner". Using metaphors about extraterrestrials, she sings, "You're not like the others / Futuristic lover / Different DNA". The chorus has Perry addressing her lover: "Kiss me, kiss me / Infect me with your loving / Fill me with your poison", claiming to be "ready for abduction". For its single release, the song was reworked to feature two verses from Kanye West, which continue the extraterrestrial metaphors. Opening the track with "I got a dirty mind / I got filthy ways", he then goes on to say, "They callin' me an alien / A big-headed astronaut". West contributes another verse before Perry's final refrain, with heavily Auto-Tuned vocals: "I know a bar out in Mars / Where they driving spaceships instead of cars". He finishes with a reference to the fictional character Shrek and lyrics of "alien sex": "I'mma disrobe you then I'mma probe you / See, I abducted you so I tell you what to do." The National Post's Ben Kaplan noted West's presence on the track was similar to his work on his fourth studio album, 808s & Heartbreak (2008).
"E.T." has received mixed reviews from professional critics. It has been noted for bringing out a different side of Perry, with a darker, deeper, and more mature tone. This was praised by BBC Music's Al Fox who enjoyed the contrast from her conventionally upbeat pop tracks like "Hot n Cold" and "California Gurls". Leah Greenblatt of Entertainment Weekly felt Perry showed strength on the song, comparing its sound to a combination of American rock musicians Lita Ford and Trent Reznor. Matthew Cole of Slant Magazine disliked the track's inscrutability and said that "E.T."'s backing track was reminiscent of t.A.T.u.'s "All the Things She Said" (2002). Now's Jason Richards called the song "awkward" and Sputnikmusic's Rudy Clapper dismissed its attempt at a more mature sound, calling it "cheesy". Bill Lamb, writing for About.com, gave a three-and-a-half star review out of five: he was disappointed with the lack of a defined hook, remarking the song could have had more potential and that its "edginess builds without release." Reviewing the remix, critics were divided over West's appearance. Kaplan lauded the track as a "great duet", praising the vocals of both performers, a statement echoed by Lamb, who felt West's verses intensified the song. Further, Entertainment Weekly's Brad Wete felt the song was improved with a male perspective. Digital Spy's Robert Copsey gave a review of four stars out of five, but felt, on the other hand, that the rapper's contribution added nothing to the track. Amos Barshad of New York felt West's alien metaphors went into "strange directions".
The song charted at number 42 on the Billboard Hot 100 following its release as a promotional single, selling 64,000 digital copies. On the same week, "E.T." debuted on the Canadian Hot 100 at number 13. In Australia, the song debuted at number twelve and peaked at number five for two weeks starting February 6, 2011. It has since been certified platinum by the Australian Recording Industry Association for sales of 70,000 units. One week after debuting at number 17, "E.T." topped the New Zealand Singles Chart on January 31, 2011, becoming her sixth number-one in the country, and has been certified gold by the Recording Industry Association of New Zealand. On February 26, 2011, the song entered Billboard's Hot Dance Club Songs chart at number 36, and has peaked at number 3. The song has reached at number 27 on the Dutch Top 40, number 35 on the Czech airplay chart, and number 64 on the Slovak airplay chart. On March 5, 2011, following its single release featuring West, the song re-entered both the Billboard Hot 100, at number 28 with 110,000 copies sold in its first week, and the Canadian Hot 100, at number 18. The song has since sold over one million copies and has topped the Billboard Hot 100, becoming Perry's fifth song to do so, and West's fourth. Ending the six-week run of Lady Gaga's "Born This Way", this feat makes Teenage Dream the ninth album in the history of the chart to yield four number-one singles. "E.T." has also peaked at number 8 on Billboard's Pop Songs chart, as well as number 5 on the Canadian Hot 100. The single has peaked in Ireland at number 11, in Austria at number 14, Australia at number 53, and on the Ultratip charts of both Belgian regions at numbers 7 (Wallonia) and 10 (Flanders). On the UK Singles Chart, the single peaked at number 29 in its fifth week on the chart.
A music video for "E.T." with West was released on March 31, 2011, premiering on MTV.com. The date was announced in a teaser trailer released on March 21, 2011, which showed clips of an unidentified flying object. The video was directed by Canadian Floria Sigismondi, known for her "dark, feminine" music videos for artists including Christina Aguilera and Marilyn Manson. In an interview with NRJ's French radio show Le 6/9 on March 10, 2011, Perry revealed she was satisfied with her decision to collaborate with Sigismondi, after having previewed a 30-second clip. In the video, Perry, as an alien, drifts through outer space before landing on an abandoned Earth covered with litter. Clips are interspersed of large felids hunting game. She comes across a broken robot, which turns into a naked male, played by Shaun Ross upon her kiss. It is eventually revealed Perry's legs are in fact those of a gazelle. Meanwhile, West is featured in the video floating in a travelling spacecraft. Throughout the video, Perry wears heavy cosmetics and extravagant outfits, including blue and pink make-up, cat- and reptile-like eyes, and Medusa-esque braids. New York's Willa Paskin compared her looks to "detailed, outlandish, semi-gorgeous rainbow-kabuki". She has also received comparisons to Lady Gaga's look in the music video for "Born This Way", the Queen of Sheba, Ziggy Stardust, the alter ego of English musician David Bowie, and fictional characters Lara Croft, Padmé Amidala, and Jadzia Dax. The video itself has been described as "a sequel to Avatar or a Katy Perry video game".